As you probably remember, after Comedy Central censored South Park to placate murderous radical Muslims, Seattle cartoonist Molly Norris blogged her suggestion for "Everybody Draw Muhammed" day, illustrated with her own drawings of a spool of thread, a cup of tea, and a domino, all claiming to be "portraits of Muhammed."
Now, as the New York Daily News reports:
A CHARISMATIC terror leader linked to the botched Times Square car bomb has placed the Seattle cartoonist who launched "Everybody Draw Muhammed Day" on an execution hit list.

Yemeni-American cleric Anwar al-Awlaki—the radical who has also been cited as inspiring the Fort Hood, Tex., massacre and the plot by two New Jersey men to kill U.S. soldiers—singled out artist Molly Norris as a "prime target," saying her "proper abode is hellfire."

FBI officials have notified Norris and warned her they consider it a "very serious threat."
"The medicine prescribed by the Messenger of Allah is the execution of those involved," writes Awlaki, 39, a Las Cruces, N.M.-born American citizen. "A soul that is so debased, as to enjoy the ridicule of the Messenger of Allah, the mercy to mankind; a soul that is so ungrateful towards its lord that it defames the Prophet of the religion Allah has chosen for his creation does not deserve life, does not deserve to breathe the air."
Molly Norris: I am so sorry. Along with murder, terrorists deal in terror, and you've been dealt a criminally large portion.
Sponsored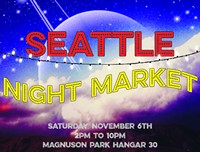 Shop, snack and booze your way through 75+ local shops & retailers. 21+ with vaxx or negative test