Chris Blakeley
A couple of the Can Can Castaways.
A few weeks ago, I wrote about choreographer Rainbow Fletcher and the Castaways, the house dance company at Can Can Cabaret, who pack out the house every week and trick Seattle into watching—and enjoying—modern dance.
The story ended with a description of a short dance work called The Buffoon—based Edward Gorey's masterpiece, The Doubtful Guest—performed at the Northwest New Works festival at On the Boards a few weeks ago:
A person could read The Buffoon through the lens of the Castaways' career: a unique—and some might say eccentric—dance company that has eschewed the stuffiness of the traditional modern-dance world to experiment with its own flavors, drawing both puzzlement and occasional disapproval from the veterans of the dance world. But Fletcher, always sunny and optimistic, puts off this critical interpretation.

"There was only a hair of that," she explained one night last week at the Can Can, when asked whether she'd encountered any snootiness at Northwest New Works. "There's such a gap between us and them—the worlds are separated. I don't think they've even seen enough of what we do to judge us."

It won't be that way for long.
Today, On the Boards announced the lineup for this year's A.W.A.R.D. Show!, a highly popular and somewhat controversial dance competition that started in NYC and grew to Seattle last year. And what do you know?
* Lauren Edson
* Rainbow Fletcher - The Offshore Project
* Angelle Hebert - tEEth
* Marc Kenison aka "Waxie Moon"
* Ricki Mason and Jody Kuehner - The Cherdonna and Lou Show
* Shannon Mockli
* Marissa Rae Niederhauser - Josephine's Echopraxia
* Ellie Sandstrom - SANDSTROMMOVEMENT
* David Lorence Schleiffers - Quark Contemporary Dance Theatre
* Zoe Scofield - zoe | juniper
* Crispin Spaeth
* Olivier Wevers - Whim W'Him
(The Offshore Project is pretty much a synonym for the Castaways—most of the same people are involved as dancers and choreographers, though they go by this different handle for non-cabaret dancing.)
tEEth, beautiful freaks from Portland.
There's a whole pack of dancers on that list who have modern training but took their talents to the cabaret/burlesque world: Waxie Moon (formerly of José Limón's company in NYC, now a boylesque superstar), Cherdonna and Lou, and Fletcher.
Plus Olivier Wevers, who moved in the opposite direction, from the super-haute formality of Pacific Northwest Ballet to modern dance. (And not without taking some serious hits along the way.)
It's good to see some of the local modern-dance stalwarts in the mix as well: Zoe Scofield (who we haven't heard from in awhile), Crispin Spaeth (ditto), tEEth (beautiful freaks from PDX), Ellie Sandstrom from locust and SANDSTROMMOVEMENT.
The A.W.A.R.D. Show! isn't until January—but it looks like it's going to be a hell of a smackdown. Greenhorns vs. veterans, populist vs. heady, ballet vs. burlesque. All we'd need is a Peter Boal vs. Pat Graney sudden-death round and this would be the dance show of the decade.
Who's in for a betting pool?
Sponsored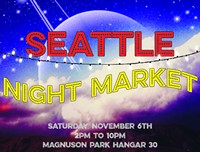 Shop, snack and booze your way through 75+ local shops & retailers. 21+ with vaxx or negative test