In Questionland, Marm writes:
Help me read something Brautiganish (or not)?

Looking for something to read. Would like to read something that has the spiritual simplicity and just-writing-it-for-kicks-cause-it's-so-damn-fun aspect of a Richard Brautigan novel. "Dreaming of Babylon", "A Confederate General in Big Sur" and "The Abortion" are my favourites of his...
There are five great answers to Marm's question as of this writing, including an extensive one by librarian David Wright. Here's what I had to say:
I've read The Abortion aloud a few times because I love the language so much. Brautigan is so underrated these days; as far as I'm concerned, he's right up there with Vonnegut. Did you ever read Charles D'Ambrosio's appreciations of Richard Brautigan? One was in the first issue of Swink magazine—not available online—and it was incredible. D'Ambrosio doesn't write like Brautigan, but he appreciates him so much that I bet you'd appreciate his writing. They have a certain kind of unexplainable bond. Try to find Orphans, but Dead Fish Museum is excellent, too.
I bet you'd like Sarah Shun-lien Bynum's Ms. Hempel Chronicles. It has a similar, floaty feel to it; you learn about the character indirectly, but that turns out to be one of the best ways to meet a character.
(I second David's suggestions of Queneau and Markson. I think you might enjoy Oulipian authors a great deal. And another of David's suggestions is right-on: You might hate him, but I have to say that Tao Lin's most recent novel, Richard Yates, was one of the most Brautiganian reading experiences I've had in a while. I think if Brautigan was starting out today in a world of Google Chat and celebrities and the internet, he'd be writing a lot like Lin's style in Yates. But bear in mind that it is a completely acquired taste.)
There's a great out-of-print book called Dreams of an Imaginary New Yorker Named Rizzoli that you should definitely track down (I bet it won't be very expensive.) I read it during my Brautigan-intensive period, and it blew me away. Other authors I discovered when I finally read my way through everything Brautigan wrote: Jim Dodge, Italo Calvino, Nicholson Baker, and Donald Antrim.
And I'm not a spiritual person at all, but I really enjoyed David Eagleman's Sum: Forty Tales of the Afterlives. It's a series of thought experiments about imaginary afterlives. Each chapter is a short, stand-alone imaginary glimpse into what could happen to us when we die. It's not Christian (or religious at all, for that matter) and it's just the right amount of whimsical.
You can add to the discussion here. Ask your own MatchBook question in Questionland.
Sponsored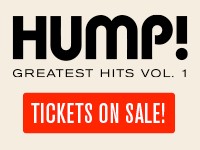 What are YOUR favorite HUMP! films? Start with HUMP! Greatest Hits, Volume One! Relive the memories!