I was downtown earlier today, and somebody's hijacked a whole bunch of Seattle Times newspaper boxes, replacing the display copies with another copy that looks like this:
Headline: "WE'RE KILLING EVERYBODY WE CAN," SEATTLE POLICE DECLARE. The upper left: WONDERS WONDER AWAY Who even cares about anything anymore? And the upper right: GIANT HUMANS STORM THE EARTH Healthy confident.

POST UPDATED, 5:25 pm. MORE PHOTOS AFTER THE JUMP
Westlake Center

Smiles, We Have Smiles

Macy's

5th Avenue

5th Avenue WTF

Pike Place Market

Seattle Art Museum

Lusty Laa... I mean "Building For Lease"

And this one for Slogger SeMe: This old dude was total old school G. 2nd and Pike all the way. I'm pretty sure he was on his way to The Turf
Sponsored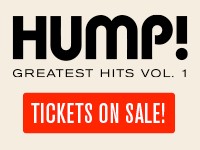 What are YOUR favorite HUMP! films? Start with HUMP! Greatest Hits, Volume One! Relive the memories!