Within weeks of being declared a public nuisance and subsequently shut down, the all-ages nightclub known as the Citadel has been transformed into an indoor public market.
"We have vendors selling everything from traditional foods to items that people in the neighborhood have said they need more access to—like
used baby clothing
," says Matao Monda, the director of the Othello Public Market, which celebrated its soft opening last Friday. Monda describes the market as "more than a farmer's market" with vendors from West Africa, Asia, the Pacific Islands, Latin America, Chile, Peru, Guatemala, and Mexico represented. "We're starting out with 50 vendors but we have space for up to 180 inside."

The building is located at 4200 S Othello Street, adjacent to the Othello light rail stop—an ideal spot for a public market.
Last month, the Department of Planning Development sent Citadel building owner Steve Rauf a list of upgrades necessary to keep the 52-year-old building functioning as a public event space. Since the market won't boast 2,000 people in the aging space at once, city officials have allowed it to open before all the necessary upgrades are in place. "They've given us the opportunity to reopen the building based on the public benefit," says Monda, who adds that eventually, his goal is to hold monthly or quarterly concerts and cultural events in the 19,000 square-foot space. "We're still working on that, permit-wise."
The Othello Public Market is now open every Wednesday through Sunday, 10:00 a.m. to 6:00 p.m.
Sponsored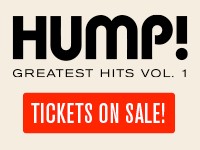 What are YOUR favorite HUMP! films? Start with HUMP! Greatest Hits, Volume One! Relive the memories!