I spent a lot of time parsing Republican gubernatorial candidate Rob McKenna's position on gay marriage last week (basically, McKenna ends up in
the same place as Michelle Bachmann
on the issue). So I figured this week would be a good time to check in on where Congressman Jay Inslee, the likely Democratic candidate for governor, stands.
I'm sure people will correct me if I'm wrong here, but as far as I can find, while Inslee has a strong record of voting to protect gay rights in Congress he's actually never made a clear, unambiguous statement in support of same-sex marriage.
Until now.
Inslee political director Joby Shimomura tells me:
Jay supports making same sex marriage legal. After 38 years of marriage, he believes that no politician or government should deny his fellow citizens what he and Trudi have, which is a rewarding, stable, committed relationship. He also believes that legalizing same-sex marriage would not infringe on the ability of churches to maintain their own practices.
That's a pretty gutsy move for a candidate about to jump into a statewide race. It also has the potential to result in a huge shift for Washington State: Inslee would be our first governor to support legalizing same-sex marriage.
Pay attention gays, gay rights advocates, and liberals of all stripes: Jay Inslee will need to win big in King County in order to win the governor's race. To win big in King County he'll need to strongly contrast himself with McKenna, so that he can pull King County voters who currently think of McKenna as a reasonable, likable moderate. (Seriously: McKenna got more votes in
this county
this state
in 2008 than Barack Obama.) With this statement in support of same-sex marriage, Inslee just gave the bluest parts of King County a big point of contrast between himself and McKenna—and a big reason to get excited about Inslee's still-unofficial candidacy.
Sponsored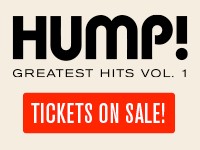 What are YOUR favorite HUMP! films? Start with HUMP! Greatest Hits, Volume One! Relive the memories!