Protect Seattle Now, the campaign that wants you to reject the tunnel referendum next month, set up this mock toll booth on Aurora Avenue to remind drivers that, at rush hour, the proposed deep-bore tunnel would require a $4 toll one direction and $5 in the other:
On the right are the assumed toll rates for the 1.7 mile tunnel, according to the Final Environmental Impact Statement (FEIS).
There is no other option, the state insists. Any surface-street alternative to the tunnel—as Governor Gregoire put it, "social engineering to
push people to get out of their cars
" and use transit—would be unacceptable. But apparently that sort of social engineering is acceptable if drivers change their routes or mode of travel because they're too poor to pay the tolls.
"As the Puget Sound region considers implementing tolls on its facilities, the potential effects on low-income populations are important to take into account," says the state's FEIS. "While toll payment, by definition, would account for a higher proportion of a low income individual's monthly income, this alone does not constitute a high and adverse disproportionate impact. The analyses of the equity of tolling concluded that the effects would not be disproportionately high and adverse because there would be viable options for avoiding the toll either through alternate routes or by switching to transit."
Sponsored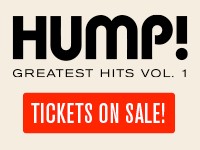 What are YOUR favorite HUMP! films? Start with HUMP! Greatest Hits, Volume One! Relive the memories!