Last Friday, Saint Genet—a new theater collective of dancers, performers, and designers previously affiliated with Implied Violence and the Free Sheep Foundation—trotted out its first public experiment in the building formerly known as the Lawrimore Project. My description of it is here, with a photo of one actor fellating another's strap-on, which I later learned was stuffed with caul fat.
After the show, and throughout this week, people have been talking about what they saw. Some were aggravated, some were transfixed. I thought it was in the fine, controversial tradition of Implied Violence—an hour and a half of disturbing, visceral stage pictures.
More photos, all by Dan Hawkins, are below the jump. Saint Genet will present another aesthetic proposition this Friday night. I stopped by the gallery a few nights ago and the designers were hanging thousands and thousands of individual grass stems from fishing line.
Sponsored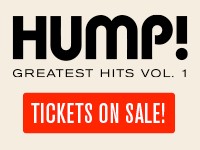 What are YOUR favorite HUMP! films? Start with HUMP! Greatest Hits, Volume One! Relive the memories!