Gay or bi—because you're not crazy.
Do you know what the religious right calls a man who experiences "homosexual arousal" but lies about it? Ex-gay.
Ex-gays aren't straight. They're just gay and bi men who've gone back into the closet. The whole thing is a scam—a hateful, soul-destroying scam.
Sponsored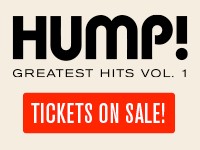 What are YOUR favorite HUMP! films? Start with HUMP! Greatest Hits, Volume One! Relive the memories!