Horror fans are by nature a forgiving lot, willing to overlook balsa-grade characterizations and visible zippers for a few decent jolts. When a scary movie fails to provide on that most basic level, however, the theater floor has rarely seemed so interesting. Released after riding the pine for nearly a year, the paranormal thriller Dream House is impeccably cast, handsomely mounted, and just as dead as dead can be. There are few hard and fast rules in the genre, but when the presence of two little undead girls can't raise even a single goosebump, warm up the hearse.
David Loucka's script sports a serviceable enough hook: After moving into a Thomas Kinkadeish new home with his wife (Rachel Weisz) and adorable little girls, a book editor (Daniel Craig) begins to receive disquieting hints that the previous tenants may not have left voluntarily. With the aid of a sympathetic neighbor (Naomi Watts), he begins to uncover the reason for the things bumping in the night. Those with a further interest in the story should avoid the trailer by any means necessary.
To his credit, director Jim Sheridan (My Left Foot, Get Rich or Die Trying) eschews cheap jump scares — this may be the only family in haunted house history to not own a cat — but fails to supply much of anything else in the way of mood, leaving the cast to wander dejectedly through the carefully applied cobwebs and just-so creaky floorboards. That the movie carries even a semblance of a spark is due to Weisz, whose anime-sized eyes and tremulous emotional shifts hint at a deeper, tragic tale. Unfortunately, her efforts can't make much of a mark when pitted against a film that seems actively designed to ward off any bad vibes. If this story was told around a campfire, s'mores would be thrown.
Sponsored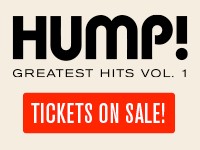 What are YOUR favorite HUMP! films? Start with HUMP! Greatest Hits, Volume One! Relive the memories!