So much for the First Amendment. This Glenn Greenwald post about the Occupy Wall Street protesters—and the concern trolling and scorn being heaped on them by some supposedly leftwing pundits—is required reading.
There's a vast and growing apparatus of intimidation designed to deter and control citizen protests. The most that's allowed is to assemble with the permission of state authorities and remain roped off in sequestered, out-of-the-way areas: the Orwellian-named free speech zones. Anything that is even remotely disruptive or threatening is going to be met with aggressive force: pepper spray, mass arrests by highly militarized urban police forces, and aggressive prosecutions. Recall the wild excesses of force in connection with the 2008 RNC Convention in Minneapolis (I reported on those firsthand); the overzealous prosecutions of civil disobedience activists like Aaron Swartz, environmentalist Tim DeChristopher, and Dan Choi; the war being waged on whistleblowers for the crime of exposing high-level wrongdoing; or the treatment of these Wall Street protesters.
Go read the whole thing. And where are all the rightwing Constitution fetishists when we really need 'em?
Sponsored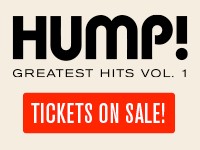 What are YOUR favorite HUMP! films? Start with HUMP! Greatest Hits, Volume One! Relive the memories!