First, he's so freaking good in 50/50, the new film that opens today and which I rave about here.
Second, he has an extremely good sense of humor about being a Bear Sex Symbol, as seen in this almost-NSFW clip from Wednesday night's Conan.
Finally and cumulatively, he's a dreamboat. Am I the only one who, given the chance to slow-dance with one of the leads of Pineapple Express, would pick Seth Rogen over James Franco every day of the week?
Sponsored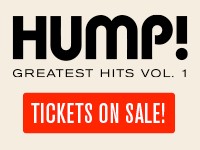 What are YOUR favorite HUMP! films? Start with HUMP! Greatest Hits, Volume One! Relive the memories!