The fine folks who hand out the $3,000 Conductive Garboil Grant each year in honor of the late, great Su Job have chosen to give this year's honor to "Little" Jen Vertz and Jeff "Weirdo" Jacobson of Rio Pacific Studio—two of the most visible artists kicked to the curb by the evacuation of the 619 building this year.
The celebration is Wednesday, October 26, from 6 to 8 pm at 4Culture (RSVP), where you can also see the installation This Heavy Load by Seattle artist Brent Watanabe (my review here).
Sponsored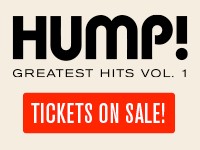 What are YOUR favorite HUMP! films? Start with HUMP! Greatest Hits, Volume One! Relive the memories!