Sponsored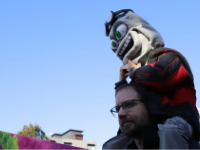 Harvest Fest will look different this year, but that won't stop the community celebrating 10 days of Harvest-y fun.
Did you know that you can buy stocks in privatized prisons on the New York Stock Exchange?
You can! It's a great investment! Because here in the U.S. of A., we love to lock people up. (Especially people of color!) And entrust some of the most delicate parts of our social infrastructure (what to do with people who've stepped—or fallen—outside of the social contract) to people who have the social contract's best interests at heart: CEOs and stockbrokers!
... the prison population continues to grow, especially in the U.S. According to the U.S. Department of Justice, America has the largest number of inmates relative to its population: for every 100,000 residents, 750 are in prison.
I smell a business opportunity!
Since 1984, the U.S. prison population has more than tripled, according to U.S. Department of Justice data... the grim scenario is that demand for prison beds is growing faster than supply; unfortunately, recessions may actually see an increased crime rate.

The major publicly traded private prison companies are Corrections Corp and (NYSE:CXW), Geo (NYSE:GEO). On the surface, none appears to be screaming bargains based on the fundamental valuation variables. Corrections Corp., the big daddy of the group, is currently selling for 13 times earnings and 1.5 times book value. Geo trades at a P/E ratio of about 13. However, these businesses were trading at P/E multiples of more than 30 before the state budget crisis hit. That difference is certainly no reason to make any investment in today's world.

The private prison system is, unfortunately, a growth industry. More and more states will seek to outsource whatever budget items they can if it leads to cost savings. These private prison companies control a significant portion of the market. They merit a closer look
Buy some stock in private prisons today!
Sponsored
See the leasing page to start the process or call Community Roots Housing at 206-204-3800. Income restrictions apply.