Valentine's Day is right around the corner, and next week's paper is going to be crammed full of thousands of little love notes sent from Stranger reader to Stranger reader. Have you submitted yours yet?
Get over here and craft 150 characters' worth of sweetness. It's free! And unlike flowers, Stranger valentines don't die.
Write your valentine before 5 p.m. and it's 99.99 percent likely to make it into the paper! After that, it's just pixels.
Sponsored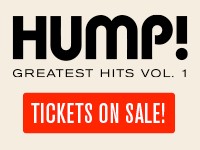 What are YOUR favorite HUMP! films? Start with HUMP! Greatest Hits, Volume One! Relive the memories!