Happening now, streaming right here, and at this very moment featuring the testimony of Ken Hutcherson.
Wondering how it's all going to go down in the house, and what happens after that? Right here.
Sponsored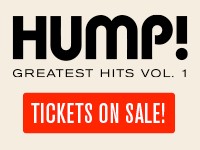 What are YOUR favorite HUMP! films? Start with HUMP! Greatest Hits, Volume One! Relive the memories!