On Sunday, February 26, members of the public are invited to join the friends and family of John T. Williams to help raise the John T. Williams Totem Pole in a traditional First Nations ceremony at the Seattle Center. The pole, carved over a period of months along the waterfront, will honor the memory of the woodcarver, who was fatally shot by Seattle Officer Ian Birk in 2010.

"I, like my brother, am a First Nations carver in the heritage and tradition of my people and my family who have been carving in Seattle since at least 1926," Rick Williams, the brother of John T. and primary totem carver, said in a statement. "We invite all of Seattle to experience the traditional pole raising ceremony and to visit the pole once it is standing. We give the John T. Williams totem pole to the City of Seattle in the hope that it will be a symbol of peace and honor for many generations."
The traditional pole raising will start at 10:00 am at Pier 57, where members of the public will gather to help carry the 40-foot pole (volunteers still needed—go here for details). The procession will then carry the pole through the city to the Seattle Center, specifically to the area bounded by Broad Street, Thomas Street and 4th and 5th Avenues N (a spot south of the Experience Music Project building and east of the Space Needle). The pole is scheduled to be raised at 1:00 pm and "at 2:00 pm the Program and Celebration of Gifting the Pole to the City of Seattle will commence," according to a press release, including drumming, blessings, singing, and dancing.
Two weeks ago, the John T. Williams totem pole project announced that it was thousands of dollars short of its fundraising goal to pay for, install, and maintain the 40-foot totem pole in honor of Williams, who was fatally shot in August 2010 by a Seattle police officer in downtown Seattle. The group is still accepting tax deductible donations to fund subsequent phases of the project.
Sponsored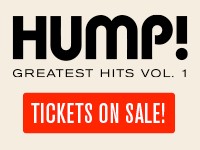 What are YOUR favorite HUMP! films? Start with HUMP! Greatest Hits, Volume One! Relive the memories!