Cienna Madrid digs into a report in this week's paper that contends Sound Transit's light-rail line is gentrifying the Rainier Valley and pushing out racial minorities: "It highlights the divide between two factions of the progressive community: the pro-development, mass-transit environmental camp and a social-justice camp that has long warned that light rail may entail social costs."
Read the whole story.
Sponsored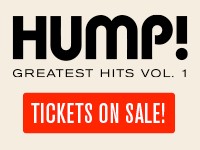 What are YOUR favorite HUMP! films? Start with HUMP! Greatest Hits, Volume One! Relive the memories!