The divine John Waters and John Waters's Divine.
John Waters's films are sleazy and weird, with pileups of horrors and whimpering laughter, and lunatics everywhere, casually befouling things. The costuming is terrific. Characters appear so consistently marred and cheap, these looks represent the
condition of their souls
. In the early years, John writes in his book Shock Value, stylist Van Smith harvested "clothes found in trash bins outside the Salvation Army," dressed faces in dirt, and
boiled wigs
to encourage a dry, matted effect. Van's "only beauty hints are a lack of sleep, alcoholism, or drug addiction, and he stresses, 'Most importantly it helps if the actor has embraced misery as a lifestyle.'"
Van was also singly responsible for creating Divine's image, writes John. (Divine worked as a hairdresser before he got famous, and "his specialty was exaggerated, ridiculously complicated bouffant hairdos.") Costume highlights include Divine's ferociously pouffed wedding gown in Female Trouble—constructed of see-through lace, it reveals his pubic hair. And during the filming of Multiple Maniacs, Divine took a break to meet John's mother for the first time: "He was dressed in heels, wig, full makeup, and... a one-piece woman's bathing suit covered in blood."
John Waters: This Filthy World: Filthier & Dirtier happens Sat, September 1, at 8:30 pm at the Bagley Wright Theater. See all our Bumbershoot coverage here!
Sponsored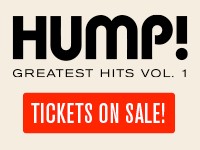 What are YOUR favorite HUMP! films? Start with HUMP! Greatest Hits, Volume One! Relive the memories!