Last week at The Stranger offices, Seattle Mayor Mike McGinn said the Port of Seattle "needs to join the city in trying to prevent the environmental, health, and economic harms that will be caused by those coal trains."
Now, he's sent a formal letter to the Port, requesting its support for a Seattle Department of Transportation study "to analyze the possible traffic impacts" of "transporting coal via nine 1.5 mile long open-top rail cars across our state and through our city."
Full letter text in the jump.
September 21, 2012


Dear Commissioners:

I am writing you today to respectfully request that the Port join the city of Seattle in an analysis to study the transportation impacts of coal trains moving through our city.

As you know, a state-wide Environmental Impact Study is underway to determine the impacts to Washington State should the effort to transport coal through our state to Asia go forward. Many elected officials and experts have already cited the negative environmental and public health impacts of transporting coal via nine 1.5 mile long open-top rail cars across our state and through our city. On May 29, the Seattle City Council passed, with all members in concurrence, a resolution "oppos[ing] the establishment of coal export terminals in Washington State and support[ing] economic growth that does not jeopardize Washington State's commitment to fight the serious impacts of climate change."

There is reason to believe that there will be negative impacts to transportation in Seattle resulting from these trains passing through every day. In an effort to know all the facts associated with transporting coal through Seattle, my Department of Transportation is commissioning a study to analyze the possible traffic impacts of such a project.

The intent and scope of the study will cover impacts to freight and general mobility should the coal trains effort become a reality.

Please expect a follow-up communication from SDOT staff on this matter. I look forward to our work together on this issue.

Sincerely,

Mike McGinn
Mayor of Seattle
Sponsored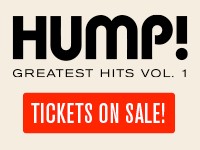 What are YOUR favorite HUMP! films? Start with HUMP! Greatest Hits, Volume One! Relive the memories!