Abortion is legal in Ireland only in cases where a woman's life is in danger. Doctors determined that this woman's life wasn't in enough danger and refused to abort her dying fetus. And now she's dead:
Health authorities in Ireland are investigating the death of a pregnant woman whose husband says she was denied an abortion following severe complications. Savita Halappanavar, who was 17 weeks pregnant, died of septicaemia a week after presenting with back pain on 21 October at University hospital in Galway, where she was found to be miscarrying.

After the 31-year-old dentist was told that she was miscarrying, her husband reportedly said that she had asked for a medical termination a number of times over a three day period, during which she was in severe pain. But he said these requests were denied because a foetal heartbeat was still present and they were told at one point: "This is a Catholic country."

Medical staff removed the dead foetus days later after the heartbeat stopped but Halappanavar died of septicaemia on 28 October.
The whole story is almost too horrible to read. But you should go read it. (Defeated GOP congressman Joe Walsh will need someone to read it to him.) And you should make sure your anti-choice friends and family members read it too. Savita Halappanavar would still be alive if she had the right to make decisions about her own health care.
UPDATE: More horrifying details from the Irish Times:
Speaking from Belgaum in the Karnataka region of southwest India, Mr Halappanavar said an internal examination was performed when she first presented. "The doctor told us the cervix was fully dilated, amniotic fluid was leaking and unfortunately the baby wouldn't survive." The doctor, he says, said it should be over in a few hours. There followed three days, he says, of the foetal heartbeat being checked several times a day. "Savita was really in agony. She was very upset, but she accepted she was losing the baby. When the consultant came on the ward rounds on Monday morning Savita asked if they could not save the baby could they induce to end the pregnancy. The consultant said, 'As long as there is a foetal heartbeat we can't do anything'.

"Again on Tuesday morning, the ward rounds and the same discussion. The consultant said it was the law, that this is a Catholic country. Savita [a Hindu] said: 'I am neither Irish nor Catholic' but they said there was nothing they could do. "That evening she developed shakes and shivering and she was vomiting. She went to use the toilet and she collapsed. There were big alarms and a doctor took bloods and started her on antibiotics. "The next morning I said she was so sick and asked again that they just end it, but they said they couldn't."

At lunchtime the foetal heart had stopped and Ms Halappanavar was brought to theatre to have the womb contents removed. "When she came out she was talking okay but she was very sick. That's the last time I spoke to her."
Sponsored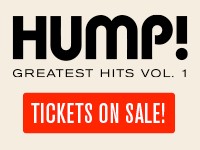 What are YOUR favorite HUMP! films? Start with HUMP! Greatest Hits, Volume One! Relive the memories!