Goldy | The Stranger
Among the weapons collected at today's Seattle gun buyback event were three 12-guage 12-round semiautomatic "Street Sweeper" shotguns.
A line of cars, trunks filled with unwanted weapons, still extended for several blocks up James Street when police officers started turning vehicles away shortly before noon. Demand for Seattle's first gun buyback program in two decades had far exceeded demand, blowing through its $118,000 in contributions halfway through what was supposed to be a six-hour event.
Among the hundreds of handguns, shotguns, rifles, and assault weapons collected today was a shoulder-mounted surface-to-air missile launcher and three "Street Sweepers": 12-gauge 12-round semiautomatic shotguns specifically designed for combat and riot control. "'Street Sweeper' says it all," an uncharacteristically tongue-tied Mayor Mike McGinn said about the weapons.
Goldy | The Stranger
A small selection of the buckets full of unwanted ammo collected at today's gun buyback event.
"It's a little surreal," Seattle Police Foundation president Renée Hopkins said surveying the bins of surrendered weapons and the long line of citizens waiting to voluntarily hand over their arms. The foundation is administrating the gun buyback program, and contributed $25,000 toward funding the event. Hopkins says today's turnout "exceeded expectations," and she's looking forward to getting back to work raising money to fund upcoming buyback events at locations throughout the county.
In addition to guns, officers also collected buckets full of unwanted ammunition, sometimes walking the line with open bags as people dumped in handfuls of bullets and cartridges, giving the exchange a weird, trick-or-treat-like feel. It was almost festive.
But by 11:30 am, two and half hours into what was supposed to be a six-hour event, it became apparent that at $100 per handgun, rifle, and shotgun, and $200 per assault weapon, the demand would quickly outstrip the $80,000 worth of gift cards on hand. The decision was made to close the line to newcomers and provide IOUs when the gift cards ran out, up to the total $118,000 in private donations the buyback program had alreay raised. A lot of unwanted-gun owners went home disappointed, yet few took advantage of the dozens of private gun buyers who had lined the streets, hoping to purchase weapons on the cheap. And that, perhaps, was the most remarkable aspect of today's event.
Like at all gun buyback events, private buyers showed up en masse, hoping to purchase weapons at below market value, but at slightly higher prices than the buyback was offering. Yet despite the long lines and slow progress, they had few takers. Citizens were lining up to dispose of their guns, not sell them. The gift cards were a great incentive, but not their primary motivation. Indeed, when the money ran out, many just handed over their guns for free.
Once the lines were closed to newcomers, the private buyers finally got a little business, but not much. Certainly not enough to warrant their numbers. "The sentiment here is genuine," Hopkins said of the gun owners taking advantage of the event. Most weren't there for the money. They were there to rid their homes and their city of some unwanted guns.
Still, the very presence of these private buyers demonstrates a glaring hole in our gun regulations. It is perfectly legal to sell a gun for cash on a street corner with no waiting period and no background check. The sellers, whatever their intentions, had no idea whether they were selling to a collector, a dealer, a felon, or a dangerous schizophrenic. This is the so-called "gun show loophole" that Republicans refuse to close.
Even some of the private buyers agreed that these street-corner gun sales felt a little weird. And while most of them scoffed at the very premise of today's event, many freely admitted that the kind of person who would hand over a gun for free or below cost is not likely to be a model of a responsible gun owner. "If you don't want a gun and you don't know how to use or care for it or have it properly secure," one buyer told me, "then you probably shouldn't have it in the house." McGinn agreed, pointing out that there were 1,738 guns reported stolen in Seattle since 2008. Every gun turned over today is one less available for thieves to steal and potentially use in a violent crime.
Goldy | The Stranger
Nothing defends your home like a shoulder-fired surface-to-air guided missile launcher.
While each of the hundreds of working guns collected represents one less opportunity for a tragic crime, accident, or suicide, the most striking visual of the day came when police confiscated a shoulder-fired surface-to-air missile launcher from a man who had just bought it off the street for $100. These are reportedly single-use weapons, so the empty launcher presents no real danger in itself, but the police say they are obligated to confiscate military equipment and contact the military to see if they want it returned.
No doubt critics will make fun of the missile launcher as a waste of time and a waste of money, but it's important to remember that no public money was expended on this event. It was all private contributions, including $30,000 from Amazon, $25,000 from Nick and Leslie Hanauer, plus sizable donations from the UW Medical Center, PEMCO insurance, SEOmoz, and various local businesses.
And now that the gun buyback program has proven to be such a huge success and the initial funds have been exhausted, it is time for other local businesses like Boeing and Microsoft to step up to the plate.
Sponsored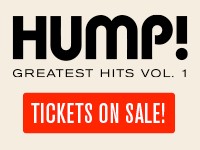 What are YOUR favorite HUMP! films? Start with HUMP! Greatest Hits, Volume One! Relive the memories!