"We were not expecting this level of response," Deputy Police Chief Nick Metz says about Saturday's gun buyback event in downtown Seattle. Based on similar events in other cities, officers had expected to take in about a hundred guns an hour. Instead, the program netted 716 weapons—including "dozens" of assault weapons—in under three hours, forcing officials to shut down the event early before they ran out of gift cards.
At the end of the day officials had handed out $68,000 in gift cards in exchange for 348 handguns, 364 rifles, high-capacity ammunition clips, and five hundred pounds of ammunition. By comparison, Chief Metz explained, Los Angeles typically collects that many total weapons in a day running simultaneous events at six different locations. Most of the guns collected were operational, and only four have so far been confirmed to have been stolen.
Things ran relatively smoothly given the unexpected turnout, though there is obvious room for improvement. "Will take on a very in depth after-action review," promised Metz. Officials started turning people away two and half hours in to the scheduled six-hour event, fearing that they would run out of the $80,000 in gift cards on hand. Once they'd served all the people already in line, officials reopened the event for about an hour, but the early closure had already led some people to sell their weapons to the horde of private buyers that swarmed the streets surrounding the event.
"We had a gun bazaar break out on the streets of Seattle outside a gun buyback," exclaimed Mayor Mike McGinn. "This is insane." McGinn said that they did not have the authority to prevent the private sale of guns. He suggested the city might be able to pass an ordinance to prevent gun sales on public sidewalks, "but that just means those sales move someplace where we can't see them at all."
"We need a background check on all gun sales," insists McGinn, "and that's something that can be done at the state level." Yeah. Maybe. But I wouldn't hold my breath.
As for the impact of the event, King County Executive Dow Constantine says he has a simple message: "Hundreds of homes in king county are safer places to live today, with hundreds of unwanted guns out of the house." Some critics have dismissed the effectiveness of the buyback, suggesting many of the weapons were old, but King County Sheriff John Urquhart wasn't biting: "I don't care if a gun is old or new, it's just as deadly," insisted Urquhart. "These are very dangerous weapons," added Metz.
And soon they'll be melted down.
Sponsored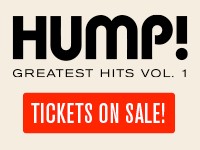 What are YOUR favorite HUMP! films? Start with HUMP! Greatest Hits, Volume One! Relive the memories!