Here is the INSANELY NSFW trailer for Eli Roth's upcoming Netflix original TV series* Hemlock Grove. Just in case you are acronym-illiterate, let me just repeat: This is not safe for work.
What do you think?
* And if you don't have Netflix, you should bear in mind that House of Cards, the first Netflix-original series, is already coming out on DVD this June, so you shouldn't feel too left out. You'll be able to get all this stuff from your local video store soon enough.
Sponsored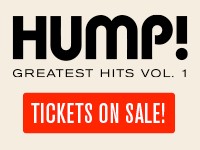 What are YOUR favorite HUMP! films? Start with HUMP! Greatest Hits, Volume One! Relive the memories!