PHOTO BY MATIKA WILBUR
STEVEN YELLOWTAIL After the photographs are printed in black and white, Wilbur hand-colors sections with oil paint—like the saddle, the chaps, and Yellowtail's face and hands.
Matika Wilbur is the kind of photographer who calls ahead. She laughs loud and makes friends easily and sleeps on the couches and floors of her subjects. If she gets sick, like she did this past August, after too many nights with no sleep, driving through the American West with her camera, she is offered an actual bed, and actually takes it. In August, it was Steven Yellowtail who insisted she take his bedroom and he would sleep on the family couch. He'd never met her before. He only knew she was a friend of his older sister's and that she was doing something she wouldn't be able to do unless she had couches and beds and floors to sleep on. What she's doing is spending several years—as long as it takes, and as long as the grant money and Kickstarter funds last—visiting and taking pictures of every Native American tribe in the United States.
She's been traveling a year so far, at the wheel of her improbable black sports car, one woman following her own grand vision. But...
Sponsored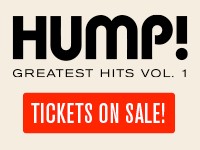 What are YOUR favorite HUMP! films? Start with HUMP! Greatest Hits, Volume One! Relive the memories!