According to a draft memo that circulated in City Hall on Friday, Mayor Ed Murray's plan to save Metro is, at its core, a Seattle-only re-run of Proposition 1.
Envisioned as a November ballot measure, it would raise $45 million in funding through a $60 vehicle fee and 0.1% sales tax (but in Seattle only this time, rather than county-wide, as Prop 1 proposed).
We're calling Murray's idea Plan E, for "Ed doesn't like Plan C."
And to recap, for those just tuning in to this Alphabet Soup of transit talk: King County Metro plans to implement four rounds of cuts to Seattle bus service, starting in September, in response to a failure of the Washington State Legislature to provide Metro funding (Plan A) and the April failure of King County Proposition 1 (Plan B). Local transit activists who had proposed a Seattle-only property tax hike to save Metro have now put their plan (Plan C) on hold, according to that plan's main backer, Ben Schiendelman.
Murray's plan, according to the Stranger-obtained draft, would not prevent the first round of Metro cuts. But over the following year, the memo says, "city steps in to prevent second, third, and final round cuts." To do that will require $40 million, which would be raised through the Seattle-only car tabs and sales tax. In addition, the city would create a $5 million fund to "partner with key suburban partners to maintain cross-jurisdiction routes," including routes connecting Seattle to Bellevue and Kent.
In return, the memo says, Metro would assure the city "there will be no supplanting and that existing Metro-funded Seattle service will remain intact (existing as of January 1, 2015)." Translation: the money Seattle puts toward saving Metro won't go to routes outside the city.
Also, Metro would commit to "continued efforts to improve efficiency" as well as to replacing "the entire electric trolley bus fleet with modern electric trolleys."
The mayor's memo mentions a Tuesday morning press conference, where presumably this plan will be unveiled to the public. But the memo was circulated late last week, so plans could have changed in the interim. We may find out more this afternoon, when King County Executive Dow Costantine plans to make his own Metro-funding announcement (Plan D?).
"The county will lay the groundwork for cities to buy their own transit service," Ben Schiendelman, the transit activist who filed Plan C, says.
Contrary to some suggestions, we shouldn't expect Keep Seattle Moving to back whatever the mayor proposes, though the group has indeed suspended signature gathering.
Now that Mayor Murray has committed to a Seattle-only measure to save Metro service in this city, Schiendelman says, "the council needs to decide whether they want to provide a progressive option to voters." Meaning, pick one: Murray's sales tax proposal, or a Plan C-like property tax proposal.
Also meaning: Council members aren't going to be able to keep on endorsing everything. Soon, they're going to have to chose exactly what kind of Metro-saving plan they'll put before Seattle voters this fall.
Sponsored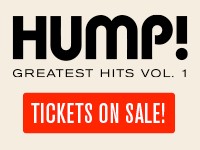 What are YOUR favorite HUMP! films? Start with HUMP! Greatest Hits, Volume One! Relive the memories!