Oscilloscope Laboratories
Teenage
(Matt Wolf, US, 78 mins.)
Sponsored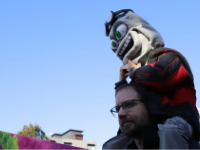 Harvest Fest will look different this year, but that won't stop the community celebrating 10 days of Harvest-y fun.
To judge by his two documentaries to date, Wild Combination and Teenage, director Matt Wolf displays a willingness to explore subjects both specific and general—and a film about the seven years between childhood and adulthood seems pretty general (in Wild Combination, on the other hand, he looked specifically at the late art-punk composer and cellist Arthur Russell).
Co-written with Jon Savage, the author of Teenage: The Creation of Youth 1845–1945, Wolf's new film explores the teen years less as a biological fact than as a phenomenon that arose in the wake of World War I. Instead of interviews, he uses archival footage, a luminous score from Deerhunter's Bradford Cox, and diary readings from Ben Whishaw, Jena Malone, and other actors.
The collage effect recalls Ken Burns' documentaries for PBS, particularly since Wolf also occasionally inserts still photographs towards which he zooms in slowly in order to approximate movement. He also uses recreations, just as he did in Wild Combination, and he artfully weaves these segments into the fabric of the film.
Teenage starts in 1904 when many young people went straight from school to the factories. In a few years, they would go straight from school to war. Wolf proceeds through flappers, swing kids, and other youth movements in which kids distinguished themselves from adults by their hair, their music, and their attitude. He also touches on the dark side of youthful naïveté, like the Hitler Youth.
It's an intriguing subject that never quite comes alive due to his diffuse approach and despite the fact that he highlights a few specific figures, like a bright young thing whose high-flying ways led to heroin addiction. I don't regret watching Teenage, but I found Wild Combination more engaging, and I feel the same way about Grant Gee's Joy Division, for which Savage also wrote the script.
Savage's essential England's Dreaming / K.C. Fennessy
If
Teenage
accomplishes anything, I hope it calls more attention to Gee's 2007 film, which arrived the same year as Anton Corbijn's acclaimed
Control
. While I would've expected
Joy Division
to benefit from renewed interest in all things
Ian Curtis
, it got lost in the shuffle. The first is a documentary and the second a biopic, but they rarely contradict each other. On the contrary, they provide a fuller picture of Curtis, his band, and Manchester, the working-class city that made them possible.
Grant Gee, meanwhile, would go on to direct my favorite film of 2012, Patience (After Sebald), an impressionistic portrait of one writer (the late W.G. Sebald), his defining work (The Rings of Saturn), and the patterns of history. If Teenage didn't me move in the same way, I'm interested to see where Wolf goes next, and his biography provides the answer: a Lena Dunham-produced documentary about Hilary Knight, co-creator of the Eloise series of children's books. Intentionally or otherwise: consider it a second chapter in his examination of youth culture.
Teenage
, which opened at The Varsity on Friday, continues through May 15.
Sponsored
See the leasing page to start the process or call Community Roots Housing at 206-204-3800. Income restrictions apply.