Peter Harrison (Vincent Kartheiser) / Image by Scott Cohen
Red Knot
Dir. Scott Cohen
SIFF Cinema Uptown, May 31 at 6pm, June 1 at 2:30pm
Sponsored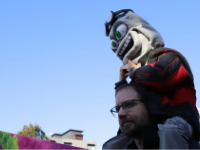 Harvest Fest will look different this year, but that won't stop the community celebrating 10 days of Harvest-y fun.
New York photographer Scott Cohen makes his directorial debut with this quietly observant depiction of a marriage in crisis.
Instead of a conventional honeymoon, Peter (Vincent Kartheiser) and Chloe (Olivia Thirlby) book passage on a research vessel with marine biologist Roger Payne (as himself). They begin their journey in Argentina en route to Antarctica. Other passengers include Roger's wife, Lisa (Lisa Harrow), and Captain Emerson (The Killing's Billy Campbell).
When Chloe and Peter sneak out during a safety demonstration to have sex, it's clear that rough sailing lies ahead, but this isn't a Dead Calm—or even a Titanic—kind of movie where a man and woman end up battling Billy Zane in the middle of the ocean, though the scenery can be equally lovely: acres of cobalt glacial ice and rocky shores filled with amorous seals and curious penguins.
It soon becomes clear, however, that the couple may have rushed into marriage, since their first argument concerns kids: she wants them, he doesn't. They reminded me of a friend who realized, while honeymooning with his wife in Europe, that it wasn't going to last. Shortly after their return to the US, they divorced. Close quarters can hasten the speed by which incompatibilities come to light.
Chloe Harrison (Olivia Thirlby) / Image by Scott Cohen
It doesn't help that Peter is in his element and Chloe is not. While he hangs out with Roger, Chloe wanders around the ship; sketching portraits, getting sick, looking lost.
During her travels, she gets to know the captain, and his companionship helps to bring her around. She distances herself from Peter, while making an effort to get to know the other passengers.
Maybe it's because Cohen started out as a photographer, but the dialogue-free moments work better than the scenes in which Chloe and Peter yell at each other. Then again, watching people argue—unless their names are George and Martha—can get old after awhile. Tellingly, Chloe watches Knife in the Water on her laptop towards the end of the film. Roman Polanski's first feature, among his best, centers on two men and a woman on a sailing expedition that goes awry.
The other man in this scenario is Captain Emerson, the most soulful character, possibly because he's already loved and lost—but also because Campbell is a more seasoned actor who's never quite gotten his due. I haven't seen The Killing, but I've enjoyed his performances in such disparate projects as The Rocketeer, Tales of the City, and Once & Again. He's neither a bad guy nor a good guy here, and I can understand why Chloe would find herself drawn to him.
As for Thirlby, who was playing teens only a few years ago, she may seem young for the part, but she's eight years older than Scarlett Johansson's similarly-situated Lost in Translation character, while Kartheiser is an old hand at this young-husband-stuff by way of his Mad Men ad exec Pete Campbell, who partook in all kinds of adult activities before he was ready to handle the consequences.
If I never found myself bored by Red Knot, which features impressionistic camera work from Rahmin Bahrani regular Michael Simmonds, this short story of a film moves in a meditative manner that recalls art house monoliths like Michelangelo Antonioni's L'Avventura, where the natural world and its mysteries threaten to dwarf the comparatively tiny humans and their temporal concerns. It may not be the message the filmmaker intended to send, but it works for me.
Red Knot
plays SIFF Cinema Uptown on May 31 at 6pm and June 1 at 2:30pm. Scott Cohen is scheduled to attend both screenings. Find more info here.
Sponsored
See the leasing page to start the process or call Community Roots Housing at 206-204-3800. Income restrictions apply.