K.C. Fennessy
Jenny Slate, Gillian Robespierre, and SIFF director Carl Spence
There's nothing quite like seeing a film with a live audience.
And considering the number of titles this year with zombies—both in and outside of SIFF—I'd imagine there's nothing quite like seeing a film with a dead audience either, though I haven't had that pleasure yet (for the record, I passed on
Zombeavers
and
Dead Snow: Red vs. Dead
in favor of
Miss Zombie
, an artful, low-budget mix of Romero-style satire and Sirk-style melodrama).
Sponsored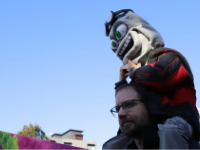 Harvest Fest will look different this year, but that won't stop the community celebrating 10 days of Harvest-y fun.
I particularly appreciate the opportunity to see a film with a live audience and a visiting guest or two—or even an entire chorus line, which happened when SIFF presented actor-turned-director Matthew Lillard's Seattle-set Fat Kid Rules the World a couple of years ago.
Sometimes, I'll pass on seeing a film at a press screening, with other writers and pass holders, if I notice that guests will be attending the official screenings. Consequently, I waited to see
Stranger Genius Award winner
Megan Griffiths'
Lucky Them
last weekend at the Egyptian, so that I could hear what audience members thought about it (they liked it) and what Griffiths had to say about it (more below).
I made an exception for Obvious Child. Though I had already seen—and recommended—the film, I still made an effort to catch the Q&A, since actress Jenny Slate and director Gillian Robespierre were both scheduled to attend. I'm glad I did as they were as funny and as charming as I would've hoped. They clearly love each other and enjoy working together, and Robespierre said she hoped to make many more films with Slate, who's already made a mark on TV by way of roles on Parks & Recreation, House of Lies, and Bob's Burgers. Obvious Child proves she can also carry a movie. Unfortunately, the short film from which they developed the feature may never see the light of day due to rights issues.
K.C. Fennessy
Megan Griffiths and crew with SIFF programmer Beth Barrett
There was such a long line for
Lucky Them
that it's a wonder I got in at all. Fortunately, I did, though I agree with
David Schmader
about the ending—it didn't work for me either—but the look and feel of Seattle comes across better than in most films of its scale (Ben Kutchins served as cinematographer). I don't know why that's so hard for so many filmmakers to get right, but I noticed plenty of familiar locations, even if Griffiths avoids most of the touristy landmarks. Of greater interest to me: the genesis of the film, since
Joanne Woodward
ended up producing it after her husband,
Paul Newman
, passed away. The script came to his attention, because his daughter's friend, Emily Wachtel, wrote it. Once Griffiths got hold of it, she and Wachtel reworked it into a Seattle story with cameos from
Lynn Shelton
,
Linas Phillips
,
Sean Nelson
, and
Charles Mudede
. I'm sorry that none of them were at this screening, but Griffiths did just fine covering every aspect of the shoot, including the path that led to the movie star who puts in a
brief, but critical appearance
. By this point, most people know who it is, but I won't spoil that surprise here.
K.C. Fennessy
SIFF programmer Clinton McClung
In a previous post, I mentioned appearances from directors Nancy Kates (Regarding Susan Sontag) and Zeresenay Berhane Mehari (Difret), and I enjoyed their Q&As, too. I especially appreciated the fact that Mehari launched a Kickstarter after US studios turned down his conception for the film, even if they sparked to the idea. The problem: they wanted to make it with English-speaking actors. Though the story has universal implications regarding women's rights, it stems from a specific place and culture, and he was justified in shooting the film in and around Addis Abeba (the spelling used in the film) with native Ethiopian actors. It just wouldn't work as well otherwise.
Although SIFF programmer Clinton McClung is hardly a visiting guest, he deserves credit for always getting into into the spirit of things, which befits a gent who often introduces the Midnight Adrenaline screenings. In the photo above, he's wearing a mask while introducing Frank in which blue-eyed Irishman Michael Fassbender spends most every minute of Lenny Abrahamson's comedy sporting an over-sized, papier mâché head that gets dirtier and smellier as the film goes along. It's like the opposite of Locke, since Fassbender has to do more acting with his body than his face while Tom Hardy has to do more acting with his face than his body, though both actors make ample use of their fine voices and, as it turns out, Fassbender isn't a bad singer either, at least not if you have a high tolerance for baritone crooners like Nick Cave and Calvin Johnson—and I definitely do.
Fassbender stars with Maggie Gyllenhaal and Domhnall Gleeson (son of Brendan).
Lucky Them opens at the Northwest Film Forum on June 13 (with Griffiths in attendance at the opening weekend screenings), Obvious Child opens at the Guild 45th on June 20, and Frank opens in limited release on August 22 (details TBA).
Sponsored
See the leasing page to start the process or call Community Roots Housing at 206-204-3800. Income restrictions apply.