Paul McDonagh, an assistant chief at the Seattle Police Department, doesn't want the actions of what he described as a lone gunman to overshadow the way people responded to today's tragedy. At a mid-evening press conference called to offer an update on the shooting investigation, McDonagh said: "The actions of the students and staff on site—those are the things that define Seattle and Seattle Pacific University."
Though police and local media initially spoke of two suspects, McDonagh told reporters there is now only one person in custody. He's a young man, 26 years old, white, and he carried a shotgun, a knife, and extra rounds into Otto Miller Hall with him this afternoon.
Shortly after 3:20 p.m. police received the first calls for help. Patrol officers were on-scene in four minutes, followed by more officers and agents from the Federal Bureau of Investigation and the Bureau of Alcohol, Tobacco, and Firearms. The Seattle Fire Department activated its "multiple casualty incident response plan," and a disaster control center was activated at Harborview Medical Center.
"We have been practicing this type of thing for a long time," said Fire Department Deputy Chief Jay Hagen. "Because it seems like, unfortunately, these types of events are becoming more common."
Medics were at the university campus by 3:30 p.m., Deputy Fire Chief Hagen said, and one minute later "had hands on" the first patient, who was at Harborview 15 minutes later. That patient appears to have been a 20-year-old male who had gunshot wounds to his upper body. Deputy Fire Chief Hagen said medics performed CPR on him at the scene, and all the way to the hospital, where he was pronounced dead.
Another victim, a 20-year-old woman, arrived in what Deputy Fire Chief Hagen described as "very serious condition." She also had a gunshot wound to her upper body, and was headed into surgery last medics saw her. The two other victims are a 20-year-old man with what Deputy Fire Chief Hagen called "pellet-style wounds" and a 22-year-old man with "minor wounds in the abdominal region."
Assistant Police Chief McDonagh said he did not yet know how many rounds had been fired by the shooter, who is being charged with investigation of murder. He also did not yet know where the young man got his weapon, though authorities are working to trace it. "He was not a student at the school," Assistant Chief McDonagh said. "That's all I know."
Then he turned back to the response, noting that Seattle Pacific University had a well-developed plan for responding to an on-campus shooting. He traced the plan back to the tenure of former Police Chief Gil Kerlikowske, who asked all the universities and colleges in the area to work with police to come up with such contingencies.
This planning, Assistant Chief McDonagh believes, is a factor that led to a greater tragedy being averted today. Another major factor: A student described as a "building monitor" who apparently confronted the shooter not long after he entered Otto Miller Hall, using pepper spray and his own body to begin to subdue the young man. Others then jumped in to help.
"If we're gonna find any good light in this," Assistant Chief McDonagh said, "it's that the people around him stepped up... Regular citizens stepped up, and they tried to do the right thing, and in this case, I believe they prevented an even more horrible tragedy."
Sponsored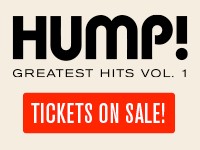 What are YOUR favorite HUMP! films? Start with HUMP! Greatest Hits, Volume One! Relive the memories!