K.C. Fennessy
Quincy Jones with SIFF artistic director Carl Spence
Every time SIFF rolls around, I end up missing the most famous guests. Granted, I attend the festival more because I'm interested in movies than celebrities, but it's a nice fringe benefit. That said, it takes money and/or pull to get into the tribute events, so I usually give them a pass and attend a film instead.
Sponsored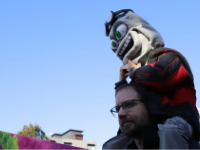 Harvest Fest will look different this year, but that won't stop the community celebrating 10 days of Harvest-y fun.
So this year, I missed the tributes to Laura Dern, Chiwetel Ejiofor, and Quincy Jones. I also missed the opening night screening of Jimi: All Is By My Side with director John Ridley and actress Hayley Atwell, the centerpiece screening of Boyhood with director Richard Linklater,* and the closing night screening of The One I Love with director Charlie McDowell and actors Elisabeth Moss and Mark Duplass, though I did end up catching the films at other screenings (I also interviewed Linklater last week). Incidentally, until my friend Tony mentioned it, I'd forgotten that Charlie is the son of Malcolm McDowell.
I don't think it really counts that I saw actor-director Clark Gregg (Agent Coulson from The Avengers and ABC's Agents of S.H.I.E.L.D.) leaving the Egyptian after the screening of his film, Trust Me, though I did! He patiently posed for photo after photo with all the Joss Whedon fans who had come out to support him.
* Boyhood swept the Golden Space Needles, which were announced on Sunday, with awards for best picture, best director, and best actress (Patricia Arquette).
It's not so much that Q is short, it's that Carl is tall
Fortunately, SIFF brings in so many guests that you'd have to work pretty hard, i.e. see very few movies, to miss them all. I previously wrote about one set of visiting attendees in
this post
. More recently, I attended
Alex of Venice
with actor-director
Chris Messina
and
The Pawnbroker
with composer
Quincy Jones
.
Though I've seen Sidney Lumet's The Pawnbroker (1964) before, I wasn't about to miss the chance to hear what Jones had to say about it. If he didn't stick around for a Q&A, his introduction was worth the trip since he discussed his Seattle childhood, his entry into the world of film composing (a world that was very white until he got involved with it), and his relationship with Lumet, which developed through their mutual friendship with Lena Horne. Since Jones stuck to the subject at hand, there was no mention of his Sanford and Son theme, his production of Michael Jackson's Off the Wall, or any of his other notable endeavors, but it was a pleasure to see the music legend in person.
K.C. Fennessy
Chris Messina and Lynn Shelton
After the screening of Chris Messina's
Alex of Venice
, a friend declared that he disliked everything about it, but I took the film for exactly what it was—
the directorial debut of an actor currently starring on a network sitcom
—and by that measure, it exceeded my expectations.
At the Q&A with actor-writer Katie Nehra and Stranger Genius Award winner Lynn Shelton, who seemed to be everywhere at this year's SIFF, Messina credited a strong cast and crew for making him look good, and I didn't sense any false humility on his part; too many first-time filmmakers settle for what they can find instead of holding out for their ideal collaborators (not counting those with unrealistic expectations in the first place).
K.C. Fennessy
Yes, I took a picture of Carl's shoes—they're the best
By way of example, Messina says he used temp tracks from David Wingo the whole way through until he finally wore down the composer's resistance, at which point Wingo contributed original material. If there's a little too much music in the film, his subtle sensibility fits with Messina's slightly dreamy aesthetic, but more than anything else, the film serves as a showcase for Scott Pilgrim's Mary Elizabeth Winstead as a harried lawyer with a young son and Don Johnson as her well meaning, if increasingly forgetful father, and both deliver. Ironically, Messina cited David Gordon Green's All the Real Girls with Zooey Deschanel as an influence. The sitcom on which Messina stars, The Mindy Project, and Deschanel's The New Girl now air back-to-back on FOX—and Shelton has directed episodes of the latter.
As of yesterday, the 40th edition of SIFF has come to an end. Despite all I missed, I enjoyed the films and events I attended, including The Future of Film Criticism panel in which I participated on Saturday (conclusion: it does have a future despite any signs to the contrary). Altogether I saw 41 films, which is nothing compared to the average full series pass holder, but it seems like a lot to me. If I had to pick three standouts, I'd go for Boyhood, Miss Zombie, and Ida.
I've written about two of those films in previous posts, but to bring things full circle: Pawel Pawlikowski's Ida has a lot in common with The Pawnbroker in the way it approaches the Holocaust—particularly the survivor's guilt that's tearing two of the central characters apart—from a unique angle. And it features some of the most beautiful, black-and-white cinematography in the entire festival (the film also stars Dawid Ogrodnik who won the Golden Space Needle award for Life Feels Good). If you're a believer in the deeply humanist work of Danish director Carl Theodor Dreyer (The Passion of Joan of Arc, Ordet): this is the film for you.
As featured in The Pawnbroker, Austin Powers, and many hip-hop tracks.
All photos taken at the Harvard Exit.
Ida
opens at SIFF Cinema at the Uptown on Friday, June 13. Release dates for
Alex of Venice
are yet to be determined.
Sponsored
See the leasing page to start the process or call Community Roots Housing at 206-204-3800. Income restrictions apply.