Le Soleil Films/Camera One/Pathe/ABKCO La Danza LLC
The director comforts his younger self
Sponsored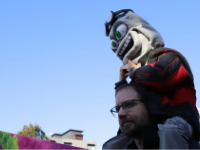 Harvest Fest will look different this year, but that won't stop the community celebrating 10 days of Harvest-y fun.
(The Dance of Reality opens on Friday, June 20, at The Grand Illusion.)
He hasn't directed a feature film in 23 years, but Alejandro Jodorowsky (El Topo, The Holy Mountain) never went away.
Aside from his appearance in Frank Pavich's terrific documentary Jodorowsky's Dune, he's been working on graphic novels, hosting talk shows, giving Tarot card readings, hanging out with Drive director Nicholas Winding Refn, posting nude videos to YouTube, and maintaining an active Twitter presence. Not bad for an 85-year-old.
A thread of autobiography winds through all of his films, but The Dance of Reality gets to the heart of the matter by recounting his childhood in the coastal Chilean village of Tocopilla. Jodorowsky, who now lives in France, provides the voice-over and appears as the present-day version of his younger self—once a surrealist, always a surrealist. As a child (played by sweet-faced Jeremías Herskovits), he lives with his Russian and Ukrainian Jewish shopkeeper parents (soprano Pamela Flores and Alejandro's son, Brontis Jodorowsky). Most everything his father says comes out as a command, while his busty mother sings every line as opera.
Santa Sangre prefigures The Dance of Reality (and also features Jodorowsky's sons).
From the events he depicts, including worker protests and Nazi rallies, it's clear that the adult Alejandro has lived his life in opposition to everything his father taught him when he was very young: that there is no God ("you die and you rot"), that pain trumps pleasure (Jaime didn't believe in Novocaine), and that only the able-bodied deserve respect (Jaime hires a little person to promote his goods, but treats him more like a gnat than a human being). The narrative proceeds through his youth with dressed-up dogs, real and fake penises, spontaneous haircuts, restorative urination, and singing amputees (maimed by work in the mines).
As the episodic storyline unfurls, however, there's a shift from Alejandro's point of view to that of Jaime, who ends up in a different place than the one he began. At the outset, he's a communist who looks to Stalin as a role model. After he sets out to assassinate dictatorial President Ibáñez, Jaime becomes estranged from his beloved wife and child. Suffice to say, he's massively humbled by the travails he experiences. The personal, as represented on screen, has rarely been more political—and vice versa. If The Dance of Reality brings an underrepresented period in Chilean history to light, it's also a tribute to Jodorowsky's parents and to the villagers, like a theosophist, who influenced the artist he would become.
I'm not sure I agree with New York Times critic A.O. Scott, who proclaimed it "something very close to a masterpiece," but I think Luis Buñuel would've dug it, and there's no one quite like Alejandro Jodorowsky, whose commitment to the finer ideals of the 1960s—sex without shame, peace and prosperity for all—remains unshakable against a corporate world that has attempted to turn his every belief into a joke. Dreamer, idealist, leftist—he wears those terms like a badge of pride.
The Grand Illusion is also screening Jodorowsky's
El Topo
(1970), which ends tonight, and
The Holy Mountain
(1973), which ends on Thursday.
Sponsored
See the leasing page to start the process or call Community Roots Housing at 206-204-3800. Income restrictions apply.