FILM MOVEMENT
It's a little...tough
Carlos is a fastidious tailor based in Granada, Spain. He lives alone, and doesn't appear to have any friends, but he has a loyal clientele. In addition, there's an elderly seamstress (the droll María Alfonsa Rosso) with whom he works on special projects, like an embroidered cloak for an upcoming processional.
Carlos is also a carnivore with a refrigerator full of meat—and nothing else.
It's the only thing he eats
(like a good Spaniard, he washes it down with red wine). Carlos procures the meat himself; he kills, drains, cuts, and wraps it all up neatly in plastic film.
Sponsored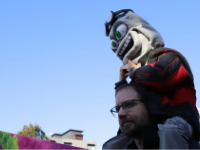 Harvest Fest will look different this year, but that won't stop the community celebrating 10 days of Harvest-y fun.
It's no spoiler to say that Carlos is a cannibal. It's in the title—Cannibal. And director Manuel Martín Cuenca, in his fourth go-round with actor Antonio de la Torre, opens the film with a car accident that Carlos engineers. The driver and passenger both die. Carlos leaves the man and takes the woman's body to his cabin in the mountains where he prepares it to join the rest of the meat in his refrigerator. There's nothing pretty about any of this, but it isn't completely horrific either: this is what Carlos does, this is what Carlos is.
And he doesn't seem especially happy about it, which is the first clue—and not the last—that Cannibal (adapted from Cuban author Humberto Arenal's novel Caníbal) won't hold much appeal for the grindhouse crowd. Carlos doesn't get his rocks off by slaying women—like Patrick Bateman in Mary Harron's American Psycho—but nor is he a figure of fright—like Leatherface in Tobe Hooper's The Texas Chainsaw Massacre (playing SIFF Cinema Uptown next weekend in a new restoration). Carlos is an ordinary looking, non-descript fellow; it's why he attracts so little attention, why he gets away with his terrible deeds.
Then a lovely Romanian-born blonde named Alexandra (Olimpia Melinte) moves into the flat overlooking his. She's a little tacky, but friendly, and Carlos is clearly intrigued. At first, she appears to be a prostitute, due to the flux of male visitors, but she's actually a masseuse, and Carlos agrees to put up one of her flyers in his shop. After a violent altercation with a client, she turns to him for assistance. At first, he resists, but she eventually wears down his resistance, and he drives her to the police station so she can report the crime. After that, she disappears.
Days later, Alexandra's brunette twin, Nina (Melinte again in a remarkable dual performance that evokes Alfred Hitchcock's Vertigo), shows up, because she hasn't been able to get hold of her sister, and their parents are going through a financial crisis. She was hoping Alexandra could help her to figure something out.
Film Movement
Pau Esteve Birba knows how to light a scene
Once again, Carlos finds himself intrigued, but this time he doesn't resist an attractive woman's request for assistance. Has he changed his ways? Or is he just trying to deflect attention away from something he might have done or knowledge he might have? After all, Alexandra had a boyfriend who appeared to be a bit of a brute. In any case, he agrees to help this kind and trusting woman to locate her missing sister, with and without police intervention. Nina even takes over Alexandra's lease, so now Carlos has another potential friend, lover—or victim.
The end confirms that Cannibal isn't really a horror movie. It's a character study (and any disturbing imagery is kept a minimum). Everything that happens makes literal sense, but Cuenca has more metaphorical intentions in mind, though I rarely saw it as the noir he intended, except for one particular scene, which recalls Fritz Lang's Scarlet Street. Since it's a Spanish film about a cannibal, however, I expected Catholic imagery—"Eat; this is my body"—and the director delivers, though he doesn't push it too hard. Nor does he reveal much about Carlos's background, yet every scene offers a clue as to the reasons for his behavior.
Since I first I heard about the film, I wondered if Carlos would have much in common with Mads Mikkelsen's Hannibal Lecter, star of the fabulously baroque NBC series and cannibal of the hour, but they don't—at least once you get past the high-protein diet and sharp suits—though Carlos bears more of a resemblance to his suave psychiatrist than the incarcerated Lecktors/Lecters played by Brian Cox in Manhunter and Anthony Hopkins in The Silence of the Lambs. Carlos isn't as flashy, as seductive, or as manipulative as Mikkelsen's character, which makes him a little less colorful. But more like someone who could, conceivably, move in next door to you and proceed to eat their way through your neighborhood.
Sponsored
See the leasing page to start the process or call Community Roots Housing at 206-204-3800. Income restrictions apply.