Megan Seling
Walla, performing with Death Cab at the band's We Have the Facts and We're Voting Yes album release party at Sonic Boom Records, 2000
As
announced on Slog this morning
, Chris Walla is leaving Death Cab for Cutie after nearly two decades together. His bandmates have also band released a follow-up statement via press release:
"We've had an incredible 17 years of making music with Chris and are very proud of what we've accomplished together, including our 8th studio album which we have just put the finishing touches on," stated Ben Gibbard, Nick Harmer and Jason McGerr. "We will miss Chris and wish him all the best in the next chapter of his career. We're excited about sharing new music, and seeing all of you very soon."
As a lifelong Death Cab fan (a relationship that has waxed and waned a few times over the years, admittedly), it's hard to imagine what the band will sound like without Walla's production and subtle musical brilliance, but I can't wait to see what comes next, from everyone involved. I maybe should also start practicing guitar, too, should they want to add a lady to the band! What do you say, Death Cab? Eh? Eh? I'm a quick learner and what I lack in talent I make up for with cool pop punk pogo moves and Go-Gos references!
Death Cab recently finished recording their eight full-length album and plan to release it in early 2015, and their remaining tour dates with Walla are after the jump.
AUGUST
15 Dallas, TX KXT's Summer Cut – The Happy Funtime Fest
16 Omaha, NE Maha Music Festival
29 Edmonton, AB Sonic Boom 2014
30 Calgary, AB X-Fest 2014

SEPTEMBER
5 Chicago, IL The Hideout Block Party & Onion AV Fest
7 Toronto, ON Riot Fest
11-14 Victoria, BC Rifflandia
Sponsored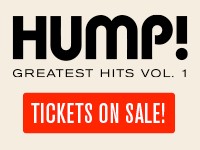 What are YOUR favorite HUMP! films? Start with HUMP! Greatest Hits, Volume One! Relive the memories!