RAM Releasing / Film Movement
Eun-woo Lee plays two very witchy women in Moebius.
Sponsored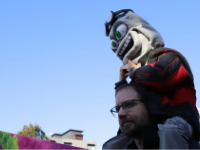 Harvest Fest will look different this year, but that won't stop the community celebrating 10 days of Harvest-y fun.
There are men who cheat on their wives and go out of their way to cover their tracks, and then there are men who flaunt their affairs. The unnamed father (Jae-hyun Cho) in Moebius, now playing at the Grand Illusion, accepts calls from his shopkeeper mistress (Eun-woo Lee) in front of his wife (Lee again) and takes her out on the town, where their teenage son (the very pretty Young-ju Seo) catches him in the act—literally, since the father likes to have sex in cars. Since the film springs from the twisted mind of South Korean auteur Kim Ki-duk (3-Iron), it's clear that things won't end well. Kim also eschews dialogue, though this isn't a silent film; it features every kind of sound, except the spoken word.
A tense situation then turns spectacularly baroque: When the husband thwarts the wife's attempt to sever his penis, she goes after the son—and renders his member unsalvageable. Clearly, this lady has issues. But wait! There's more. Afterward, she splits the scene to wander the streets with bare feet and crazy hair, leaving sullen son alone with guilty father, at which point the two trade places, since the man attempts to get his shit together—he stops seeing the mistress and scours the internet for solutions to his son's conundrum—while the boy mixes it up with the mistress and some local tough guys. There's also the introduction of pain as a form of pleasure and sacrifice as a demonstration of love.
The film, which isn't as graphic as it sounds, is trying to do too much at one time, and it doesn't all work. Between the wife and the mistress, who lack a sense of boundaries, accusations of misogyny wouldn't be misplaced, though it's the father's infidelity that sets the plot in motion. It won't be for everyone, and I never saw it as the black comedy Kim may have intended, but it's unlikely you've ever seen anything exactly like it—not counting the conclusion of Christophe Honoré's Ma Mère (in which Louis Garrel shares an uncomfortably close relationship with his mother) and the more outré parts of David Cronenberg's Crash (especially those revolving around Rosanna Arquette's kinky car-crash survivor).
Moebius plays through Thursday—find Movie Times here.
Sponsored
See the leasing page to start the process or call Community Roots Housing at 206-204-3800. Income restrictions apply.