A Master Builder
, a film that opens a
today
, plays like the third entry in a trilogy with Louis Malle's
My Dinner with André
and
Vanya on 42nd Street
(Jonathan Demme dedicated the film to Malle, who died in 1995).
Sponsored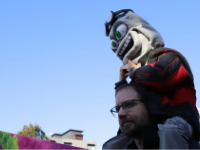 Harvest Fest will look different this year, but that won't stop the community celebrating 10 days of Harvest-y fun.
Demme, who transformed Spalding Gray's monologue Swimming to Cambodia into a work of cinema, directs the film with minimal fuss from André Gregory's modern-dress stage version of Henrik Ibsen's Master Builder Solness, the author's 1892 follow-up to Hedda Gabler.
Gregory's one-time dinner partner, Wallace Shawn, who adapted the text from the original Norwegian, stars as the title character, a dying architect who maintains his position by controlling the people in his life, from his associate, Brovik (Gregory), to his wife, Aline (the wonderful Julie Hagerty, everyone's favorite stewardess*), until the arrival of uninvited guest Hilde (Lisa Joyce, by turns compelling and off-putting). The young woman, who laughs at inappropriate times, claims he made a promise to her 10 years before, and she intends to collect.
* Next to the late, great Karen Black, of course.
As the two go head to head, the film recalls David Mamet's claustrophobic Oleanna, because the truth remains elusive. Is Hilde sane or crazy; real or a figment of Halvard's imagination? It's an intriguing premise, but the text feels more reflective and meditative than naturalistic Ibsen plays, like A Doll's House. Cinematographer Declan Quinn (the brother of actor Aidan) shot the film much as he did Vanya on 42nd Street and Demme's Rachel Getting Married with handheld camera and tight close-ups—all the better to bring Solness's guilt and regret into stark relief. If A Master Builder marks the weakest of the three Shawn-Gregory cinematic collaborations, the elegiac tone makes it a fitting conclusion.
For more information about A Master Builder opens today—visit Movie Times.
Sponsored
See the leasing page to start the process or call Community Roots Housing at 206-204-3800. Income restrictions apply.