Jeez, every time I turn around, I run into a great new poster by Shogo Ota. This one is not just strikingly different from what everyone else is doing, but an unexpected left turn from his own recent work. See more at tiremanstudio.com.
Click here to leave a comment!
Sponsored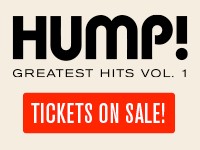 What are YOUR favorite HUMP! films? Start with HUMP! Greatest Hits, Volume One! Relive the memories!