Ansel Herz
A cab driver, Abdinasser Omar, joined the protesters and gave an impromptu speech: "People need to come out and stop the system of bullets."
Protesters Marched on Capitol Hill Last Night, Blocked Traffic at Westlake Center: And they prayed. Organizers say they'll continue their efforts until Darren Wilson is indicted.
Chanting, "I pray for Mike Brown, he was kneeling on the ground." A woman in the crowd is crying. pic.twitter.com/t8t7yhe2nt
— The Stranger (@strangerslog) December 2, 2014
Protest has shrunk, and remaining marchers—40 to 50—still want to get downtown. Irene, Nova High student, among them: pic.twitter.com/AyZsUa8AHR
— The Stranger (@strangerslog) December 2, 2014
Obama Announces Funding for 50,000 Body Cams for Police: Responding to events in Ferguson, the president said tighter standards and better training are necessary in local police's use of military-style equipment, but stopped short of saying police shouldn't have the equipment to begin with. According to the New York Times, Obama also announced that the federal government will spend $263 million to provide up to 50,000 body cams for police, which would help clarify disputed incidents such as the Michael Brown shooting. A task force will also be formed to improve local policing.
Daimler
More car-sharing services may be coming to Seattle.
Seattle May Get More Car-Sharing Services: A new bill being considered by the city council in the coming weeks would allow the Seattle Department of Transportation to issue more car-sharing permits to up to three more companies, in addition to Car2Go, giving them each up to 500 permits (or up to 750 if they provide service to the entire area). King 5 reports that Car2Go has nearly 35,000 members in the region.
Tech Sector Expected to Grow in Seattle: A survey of local chief information officers found that 23 percent are planning to expand in the first half of 2015, reports the Puget Sound Business Journal.
Courtesy of Seattle Public Schools
Interim schools chief Larry Nyland.
Seattle School Board Delays Superintendent Vote: School officials are allowing time for the public to weigh in on their decision to appoint interim schools chief Larry Nyland as full superintendent. The Seattle Times reports the school board will discuss the issue at tomorrow's meeting and vote on December 10.
Inslee Vows to Cut HIV Cases in Washington in Half by 2020: Yesterday, the governor announced his plan for a task force that will come up with a statewide proposal for dramatically cutting HIV diagnoses. The number of new HIV cases in the state has been on the decline, dropping from 540 in 2008 to 470 in 2013, reports KOMO News.
You Know How Everyone Thinks North Korea May Have Hacked Sony Pictures? The Guardian says, yeah, probably not.
HOLY FUCK This Short New York Times Documentary About the Chinese Demand for Burmese Jade Is Fucking Depressing: In short, it involves crushing poverty, drug addiction, HIV, and what looks a whole lot like conspiracy.
Sponsored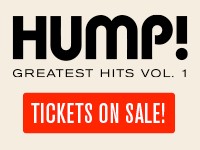 What are YOUR favorite HUMP! films? Start with HUMP! Greatest Hits, Volume One! Relive the memories!