HOOP DREAMS Not pictured: Arthur Agee's hands.
In the first few minutes of the three-hour documentary Hoop Dreams, you see something that no longer exists: Robert Taylor Homes. These modernist towers were built in the '60s and managed by the Chicago Housing Authority. They represented the ideals of the Swiss French architect Le Corbusier and also the end of the road for America's commitment to public housing. Hoop Dreams captures the years before the Robert Taylor Homes were demolished and replaced with mixed-income housing. What we see in the documentary is the end of the black, Starbucks-less inner city. And so it is impossible to watch this story of kids who have dreams of becoming rich and famous by way of professional basketball without a sense of nostalgia and even sadness. The junkyards, crappy convenience stores, storefront churches, neglected parks, and playgrounds all sit on property that will soon begin to rise in value. America's concept of urbanism will radically change. The suburbs will lose their charm, and inner-city density will be revalued as a virtue—along with walkability and public transportation. Indeed, the very first shot in Hoop Dreams is of an elevated train, slicing through the hood…
Sponsored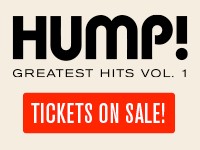 What are YOUR favorite HUMP! films? Start with HUMP! Greatest Hits, Volume One! Relive the memories!