Beep Beep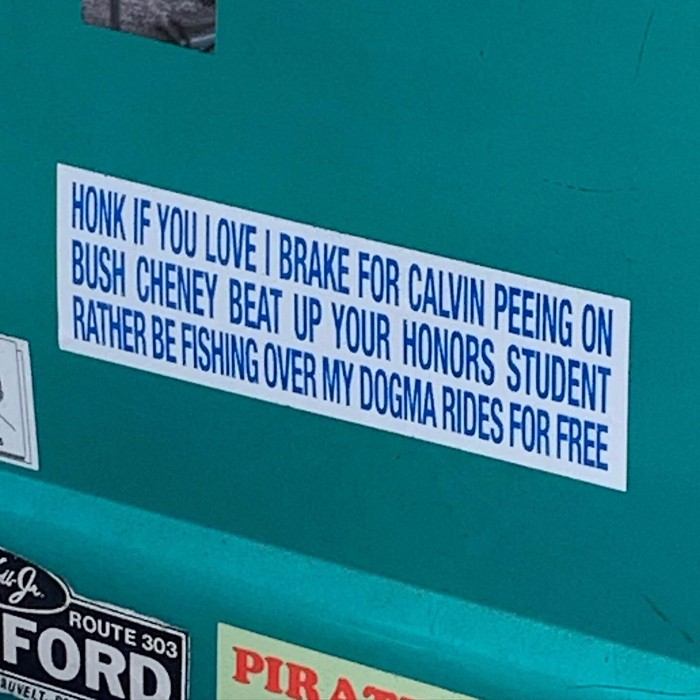 Last week, I spent a lot of time in New York City, so this week's column is NYC-themed! Spotted this bumper sticker in Bushwick and did, in fact, see several cars honking. 
Hot Sauce Is Important
They mean "you're" not "your," but the message is still correct.
Has Anyone Checked on the Funk Recently?
This certainly feels like a bad omen.
A Self-Aware Meme Sticker
Pretty sure I saw this one in Manhattan, but could certainly work on the streets of Capitol Hill...
You Didn't Hear It From Me, But....
This comes to us via Tucker Carlson Eats Poop—thanks! 
No... Seriously...
But you know what it's ACTUALLY supposed to look like.... Thanks, Fuck A Fuckin' Job. 
You Sound Like My Mom 
Some of the jokers I saw in NYC need to learn this lesson! But overall, the Big Apple put up a mean sticker game—I was thoroughly impressed. However, I'm happy to back on Seattle's sticker-laden shores. More next week...
As always, if any of these stickers belong to you, please e-mail me at jkeimig@thestranger.com.