WEDNESDAY 8/16 
(FILM) The rise of South Korean cinema in the 21st century, a rise that has resulted in the critical and commercial success of Bong Joon-ho's Parasite in 2019, begins in earnest with Park Chan-wook's 2003 film Oldboy. The moment it stepped on the world stage was the 2004 Cannes Film Festival. True, Bong's Memories of Murder, which was also released in 2003, is a deeper artistic and political work, but Oldboy is much more gripping and sensational and violent. Indeed, the line between Oldboy and the hit TV series Squid Game is unbroken. Both present an improbable plot that is somehow compelling. At the heart of Squid Game is the ugly hunger for money; in Oldboy, it's the insatiable hunger for revenge. And both (the TV series and the movie) imagine a reality that seems to be completely controlled by unknown forces. (SIFF Cinema Egyptian, 805 E Pine St, various showtimes through August 24, $13-$14) CHARLES MUDEDE
---
THURSDAY 8/17 
(MUSIC) If the supermarket shelves are to be trusted, summer is over. Everything is pumpkin-spiced and five-pound bags of trick-or-treat candy fills every endcap. And is anyone else getting fed Christmas cookie how-to videos on Instagram? The fuck? Of course, I'm writing this on a day when temperatures are expected to break into the 90s and the average high for the next seven days is an uncharacteristic, for Seattle anyway, 81 degrees. On Thursday, soak in whatever's left of the season when the Cave Singers play Westlake Park at high noon. Marty Lund's drumming flows like a cool breeze while Derek Fudesco's warm, repetitive guitar playing lends a golden sheen to singer Peter Quirk's lyrics about growing up on the Jersey Shore. Their songs are the hazy sunbursts that haunt vintage photographs of kids building sandcastles on the beach. They're the sonic equivalent of sitting on the curb and racing to finish that Bomb Pop before it melts all over your hand. The Cave Singers are summer. Don't forget to pack a picnic. (Westlake Park, 401 Pine St, noon, free, all ages) MEGAN SELING
---
FRIDAY 8/18 
Bully with Bev Rage & the Drinks
(MUSIC) Sub Pop's Alicia Bognanno has been on heavy KEXP rotation this year and for good reason. The singer-songwriter/producer known as Bully will share a musical repertoire four albums deep at their show this week, including their newest full-length Lucky for You, which was released just two months ago. Lucky for You and its predecessor, the 2020 album Sugaregg, reveal a deeper, moodier side as Bully processes isolation, getting sober, and a bipolar diagnosis. Bully's new music also tackles the collective grief compounded by the attack on LGBTQ communities and women's rights in the US over the past years. Prepare to dance, maybe even cry, and definitely scream, because despite some difficult themes, Bully fuckin' shreds. Think grunge, pop, and feminist punk icons like Bikini Kill and Sleater Kinney. (Neptune Theatre, 1303 NE 45th St, 8 pm, $22.50, all ages) BRITTNE LUNNISS
---
SATURDAY 8/19 
The Stranger presents the 2023 Undisputable Geniuses of Comedy!
(COMEDY) It's not often that you'll find crowd favorites like Dee's Nuts host Dewa Dorje, Two Evils hosts Arlo Weierhauser and Kate Murphy, and one-time Last Comic Standing contestant Emmett Montgomery together, cracking funnies on the same stage. The Pacific Northwest's knee-slappin' legends will bring the laughs alongside hilarious up-and-comers with a night of improv and stand-up hosted by punk rock wordsmith and 2016 Portland's Funniest Person winner Nariko Ott. Plus: Read interviews with all of Seattle's Undisputable Geniuses of Comedy on Slog all week long! (SIFF Cinema Egyptian, 805 E Pine St, 8 pm, $25, 18+) LINDSAY COSTELLO
---
SUNDAY 8/20 
(VISUAL ART) Qatari American artist, writer, and filmmaker Sophia Al-Maria "addresses the orientalist gaze and residual histories of colonialism" in Not My Bag, a solo exhibition of interwoven, layered narratives that question traditional readings of historical events. Working in moving image, text, and collage, Al-Maria's "counter-histories" also visualize alternate futures and address legacies of imperialist violence. I'm stoked for her trilogy of recent films, Beast Type Song (2019), Tender Point Ruin (2021), and Tiger Strike Red (2022), all of which will be on view as part of the multidimensional show. (Henry Art Gallery, 15th Ave NE and NE 41st St, Thurs 10 am-7 pm, Fri-Sun 10 am-5 pm, $0-$20 suggested donation) LINDSAY COSTELLO
---
MONDAY 8/21 
 

 

View this post on Instagram

 
(FOOD) For more than a week now fires have been burning in Maui, devastating parts of Makawao, Lahaina, and Kula. At least 106 people have died, and that number is expected to rise, making it the country's deadliest wildfire event in more than a century. Several local businesses are stepping up to raise funds for relief efforts—Uwajimaya is accepting donations and will match up to $10,000, Hula Hula is donating $5 from every Maui Brewing product sold to Maui Strong and Maui Food Bank, and Tutta Bella Neapolitan Pizzeria will donate all proceeds from every Maui Ohana pizza (featuring pineapple, prosciutto, and roasted red peppers) to Maui Food Bank. (YES PINEAPPLE BELONGS ON PIZZA STOP ARGUING NOW IS NOT THE TIME.) GoPoké shops in Chinatown-International District and Tukwilla—whose owners are from Oahu—are giving away free Dole Whip to everyone who gives to Council for Native Hawaiian Advancement. Just bring proof of donation to the shop—or scan the QR code at the counter while you're there—and they'll hand over a refreshing cup of one of humankind's most brilliant creations. (GoPoké, 625 S King St, daily 11 am-7 pm through August 24; find more businesses participating in disaster relief here) MEGAN SELING
---
TUESDAY 8/22 
CORRECTION: The Clientele and papercuts play Tractor Tavern on Wednesday, August 23. We regret the error.
(MUSIC) The Clientele are a seminal indie guitar band, but their new record I Am Not There Anymore is not a guitar album. From the band's 2000 debut Suburban Light onward, the Clientele subtly refined their formula for baroque pop melancholia, which had dulled by 2017's Music for the Age of Miracles. Five years later, the reawakened band dropped their most inspired release in two decades: an adventurous record of lustrous electronic and orchestral compositions that take their time and space. (Tractor Tavern, 5213 Ballard Ave, 8 pm, $25, 21+) VIVIAN MCCALL
---
Prizefight! 
Win tickets to rad upcoming concerts!*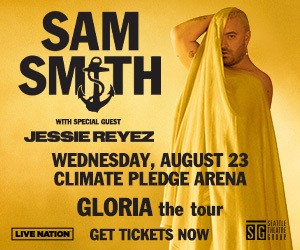 Sam Smith
Climate Pledge Arena
August 23
Contest ends August 21 at 10 am
Friendship Dungeon
Comedy/Bar
August 26, midnight-2 am
Contest ends August 21 at 10 am
*Entering PRIZE FIGHT contests by submitting your email address signs you up to receive the Stranger Suggests newsletter. You can unsubscribe at any time.