Facing a lawsuit from Attorney General Bob Ferguson and some newly clarified state rules for political ad transparency, Google announced on June 7 that it would stop selling ads aimed at local elections, ballot measures, and state elections in Washington.
Since then, Washington State went through its August primary and barreled on toward the November general election—all, presumably, with no Google ads involved. But records from the state Public Disclosure Commission and local candidates show that despite the company's self-imposed ad ban, Google has in fact sold more than $6,000 in political ads aimed at Washington's elections since it announced the ban on June 7.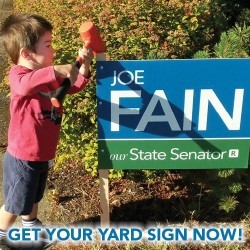 The majority of those ads were purchased by Republican state senator
Joe Fain
of south King County, who has reported spending $5,000 on Google ads since July.
Mary Ann Pruitt, Fain's political consultant, confirmed the Google purchases and sent The Stranger an image of a Google display ad she said Fain's campaign bought to encourage voters to get Fain yard signs.
Patrick T. Johnson, a candidate for district court judge in Spokane County, also reported buying Google ads recently.
"I bought them myself," Johnson told The Stranger.
He provided pictures of his August credit card statement, which showed $294.15 in Google Ad Words charges. Those charges, according to Johnson, were part of his attempt to get his campaign website to show up prominently when people search Google for terms like "Patrick Johnson judge Spokane."
"I hope I'm getting something for the money I paid them," Johnson said, noting that he's signed up to be billed by Google through the November election in exchange for the company increasing his website's exposure in search results.
Google has not responded to questions sent yesterday about these ad sales.
But the company's current advertising policies very clearly prohibit political ads targeting state and local races in Washington (or New Jersey, or Nevada, or Maryland).
Republican state representative Vicki Kraft of Vancouver is a third Washington candidate who's reported buying Google ads in recent months. Her campaign-finance disclosures say she bought a total of $933.74 worth of Google ads since July.
Altogether, Kraft, Johnson, and Fain have reported buying $6,227.89 in Google ads since Google's Washington State political ad ban went into effect.
That may not be a huge amount of money in the cash-soaked political world, but it does call into question Google's ability to track—and block—advertisers who violate the company's stated policies.
* * *
Meanwhile, legal filings in King County Superior Court related to the attorney general's lawsuit against Google have mysteriously stalled.
Citing Stranger reporting and an investigation by his office, Ferguson on June 4 alleged a decade's worth of election ad transparency violations by Google and sought fines against the company.
Then, in July, both Ferguson and Google filed an "agreed order" saying that "the interests of justice are served" by allowing Google more time to respond to Ferguson's lawsuit.
The new deadline for a response from Google: August 30, 2018.
That deadline came and went weeks ago with no response from Google, but neither Ferguson's office nor Google has offered an explanation as to why.
Facebook, which was also sued by Ferguson on June 4, is currently arguing with the attorney general over whether that lawsuit should proceed in federal or state court.
Unlike Google, Facebook made clear it would continue selling Washington State political ads despite the lawsuit and the newly clarified state regulations.
Public Disclosure Commission records indicate that so far this year, Washington State campaigns have spent more than $90,000 on Facebook ads.