Josh Powers is a designer and illustrator living and working in the Pacific Northwest. His design career began at Seattle Central Community College, and went on to work for Starbucks, Amazon, Whole Foods, and Microsoft. In our interview, we talk about crap-meters, the abstract realm, and the intersection of technology and artistry.
Can you tell us a bit about your history and creative career path?
I've definitely taken the long way around. I didn't really get rolling until I was in my mid-30s. I've always been an artist at heart, but have a practical soul, so there's always been this push and pull while traveling on my path. My creative career is ever evolving and I guess I'm always trying to figure it out.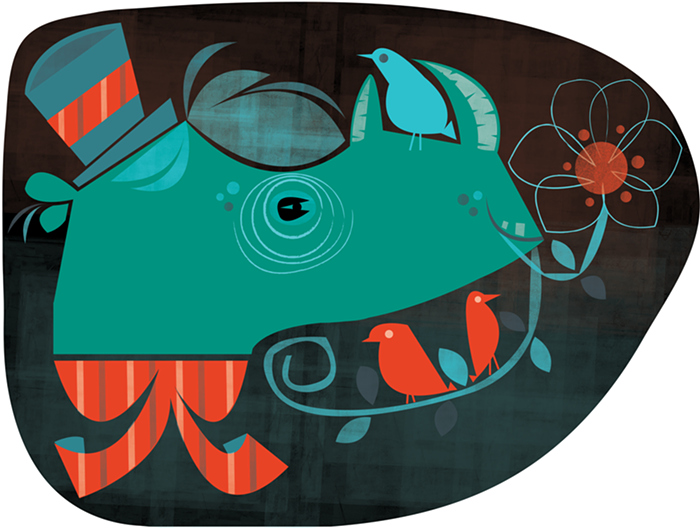 Your work spans both digital and physical mediums, does the medium affect the path an illustration or doodle takes? Or is it the reverse?
Honestly, I don't really have a formulaic approach to anything I create. I love doodling, only to flush stuff out in my head. I'm sure I retain concepts and ideas while doodling, but I rarely reference anything I sketch. My crap-meter has been well tested, so when an idea pops into my head, I can usually tell if it's a strong concept and I'm ready to get to creating.
You recently relocated to Poulsbo, right?
My wife and I had been living in Seattle for over 20 years. During the pandemic, we thought it was time to find something a little quieter. Our six-year-old was born on Capitol Hill, Seattle has been good to us, but the slower lane suits us well now. Whenever we want to go over to the city, which is often, we just jump on the ferry for a quick ride over.
What are some projects you're most proud of?
Recently, I've been working on ambient and dynamic art projects for Amazon that have been really amazing to be a part of. It's a cool intersection where technology, data, and art meet. It's inspiring to think about using technology to create beautiful things. That is to say, machines aren't creating something in your place, but rather, implementing technology to help you create something beautiful.
What's on the horizon for you, professionally, creatively?
I've really been getting into abstract art and shapes and feeling a big pull toward expressing myself in that direction. I have been painting, both digitally and traditionally, figuring out my style. My most recent illustrations have definitely reflected upon my interest in the abstract realm.
What do you listen to when you want to get in the zone?
I've found myself re-visiting my youth via the '80s and '90s. I can't believe how much good music was made during that time. Lots of new wave and a little vaporwave thrown in. I've also re-living my shoegazing days, with bands like Cocteau Twins and Galaxie 500 in heavy rotation.
---
Find more of Josh's work at thejoshpowers.com and follow him on Instagram at @cakeandkingdom.