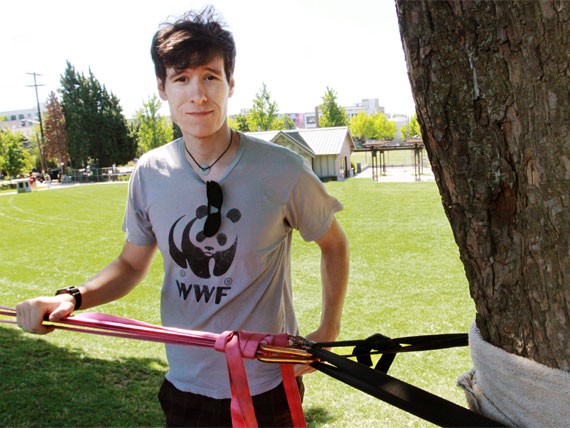 It wasn't the first time Adam Burtle had gotten in trouble for walking into Capitol Hill's Cal Anderson Park, attaching the ends of a long rock-climbing strap to two big trees set 150 feet apart, pulling the strap taut, and then performing what is essentially a homemade' not-so-high high-wire act. But what happened on July 24 is certainly Burtle's most famous run-in with the park's law enforcers.
As his girlfriend shot video, and as this Stranger writer randomly happened to be picnicking nearby, Burtle, 30, was confronted by a security official who said, "This is considered not legal in the park."
Burtle flatly told the security officer that his sport, called slacklining, is totally legit—and, more to the point, perfectly legal.
"The police will come and cite you," the security officer warned.
Burtle called the police himself.
In the end, this disagreement ended up requiring the presence of not only the security officer, but also two park rangers and two Seattle bike cops. "There's no type of violation that I know of," said one of the bike cops, talking to Burtle toward the end of the standoff. "I would just like to personally see you walk from one end to one end. If you can do that, then you can stay."
Burtle walked the line—which is one inch wide, and bounces, sways, and requires a lot of core strength to navigate—all the way to the other side. So, per the cop's rules, he got to stay.
This was not the end, however. The standoff in Cal Anderson was followed by days of exploration by Seattle Parks and Recreation into how best to deal with situations like this in the future. While that was under way, The Stranger's blog, Slog, published several posts on the subject, the video circulated on YouTube, and KING 5 ran a story. On Slog, commenters had quite a bit to say about the welfare of trees, the wisdom of slacklining, and even the boredom of white people.
"The slackline attachment method shown in the video is harmful to the tree," huffed Slog commenter Fnarf. "ANYTHING that binds or compresses the bark throughout a wide arc is harmful, period. It should not be allowed."
Slog commenter crap bag complained: "I'm supposed to walk 150 feet around this douchebag's rope?" Many others lobbed the sort of sweeping cultural critiques that have become common in testy debates over park usage in this city—debates that encompass a rich history of freak-outs over dodgeball played on tennis courts, the creation of off-leash areas, and the propriety of bike polo.
"Slackliners are just dumbass hipster types," wrote Karlheinz Arschbomber on Slog. "Fuck 'em, let them shove Skittles up their ass if they need a little thrill." Another commenter, A Magnolia Heron, described the situation in Cal Anderson as "some hippy looking to re-enact the golden days of 'Skateboarding is not a Crime.'" And according to commenter Reg, the whole problem can be summed up as "what happens when white people are bored."
The parks department went a different direction. After arranging for an "informal chat" with Burtle on July 27, parks spokesperson Dewey Potter announced that the agency sees slacklining as an "emerging" sport. Which is true. After being created by bored rock climbers in Yosemite National Park decades ago and very slowly seeping out into the wider culture, slacklining has now become popular enough to have spawned clubs, national competitions, and do-it-yourself kits sold at REI. Potter says the city will issue guidelines this week for slacklining in city parks, which she describes as a sort of "best practices" document. (Basically: Be nice to the trees, use safe equipment, and if you go to use the bathroom, put some bright objects on the slackline so other parkgoers don't get clotheslined.)
Still: What about the trees?
"Some people are very protective of trees, as are we," Potter says. "But fortunately we have professionals to manage them... Our arborist says that if the tree is of adequate circumference that padding will protect it just fine."
And the security guard who claimed slacklining was "not legal" in Cal Anderson?
"He's been dealt with," Potter said.
Burtle, who moved to Capitol Hill so that he could slackline more easily, says the most common reaction to his presence is not resentment, but rather interest in the sport.
"The average slackliner wants to enjoy the community, doesn't want to annoy people, and doesn't want to hurt the trees," Burtle said. "Just like anyone else. It's about fun."