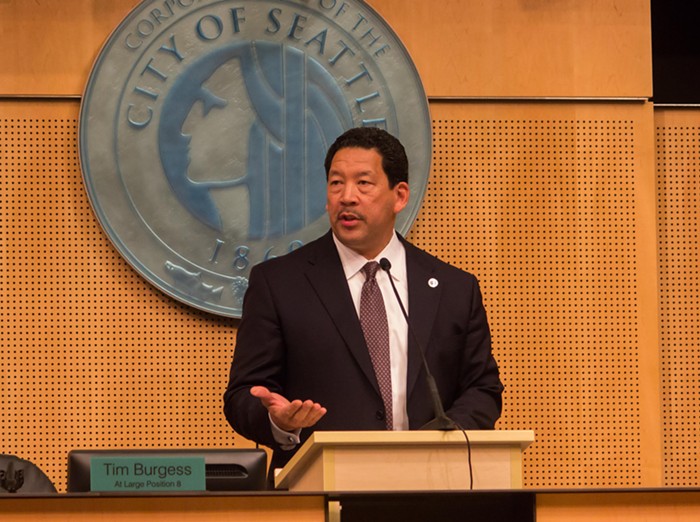 Effective at 5 pm tomorrow, Ed Murray will no longer be the mayor of Seattle. At that time, Seattle City Council President Bruce Harrell will become mayor for five calendar days. What happens next depends on whether Harrell wants to stay mayor.
If he does: Harrell becomes the mayor through the day election results are certified in November. Another council member becomes council president, but a spokesperson for the council could not confirm which member. The council would then appoint someone else to Harrell's seat.
If he doesn't: The council votes on another of its members to become mayor. The council also appoints and approves someone to fill that member's seat. Eventually, a special election would be held for that council seat.
Harrell—who once said of the sexual abuse allegations against the mayor that Seattleites "did not ask us to judge anyone for something that happened 33 years ago or maybe didn't happen"—gave no indication today of whether he will accept the mayorship.
"I intend to make an announcement within the five days on my intentions and will talk to my family, my colleagues on the Seattle City Council, and trusted members of our city on this decision with the understanding that the City and continuity of governance comes before all other factors," Harrell said.
What remains unclear is whether the council member who becomes mayor can return to their seat after either Cary Moon or Jenny Durkan takes the city's executive office when election results are certified in November. Harrell in August wrote in a transition plan that the question of returning to the council is "addressed by the Law Department under a privileged attorney client document. In short, there does not seem to be Washington case law on this issue, and resolution of this question involves an interpretation as to whether a 'vacancy' (as used under the Seattle City Charter Art. XIX, § 5) is created under such circumstance." A spokesperson for the city attorney's office said they were "still working on next steps." UPDATE: A city council spokesperson, after consulting the city clerk, says whoever assumes the mayorship will lose their council seat.
"As City Attorney, my number one priority is maintaining continuity of government operations for the people of the City of Seattle," City Attorney Pete Holmes said in a statement. "My office is advising the City Council and the Mayor's Office on next legal steps forward under the City Charter."
The resignation will also speed up the next mayoral administration. Either Cary Moon or Jenny Durkan will take office when the election results are certified in November, rather than in January.
This post has been updated with new information.