Art and Performance Fall 2023
I get it. Thanks to smartphones and Instagram, EvErYoNe Is A pHoToGrApHeR. But you and I know that's not true. While I truly do appreciate that smartphones have made digital photography far more accessible to so many more people, I also worry that the art of photography will get lost in the deluge of images intended to hold attention for as long as it takes to scroll up.
Want to put some quality into your screen time? Here are five Seattle-based photographers to follow so your social media algorithm doesn't just devolve into an endless stream of pictures of half-eaten burritos and your friends' cats.
Brittne Lunniss
Chances are you're already very familiar with Brittne Lunniss's work. If you follow The Stranger on Instagram—and you do, RIGHT??—you've liked hundreds of her photos whether you know it or not, as she's been one of our go-to live music photographers for years. That emotional photo of Boygenius' Phoebe Bridgers screaming her face off at the Gorge while playing a metal-as-fuck BC Rich Warlock guitar as yellow-lit smoke rises behind her looking like the fires of Hell? Lunniss. The shot of Taylor Swift pointing at the crowd and looking especially angsty in her bedazzled leotard with perfectly imperfect flyaway hairs and cat-eye eyeliner sharp enough to stab through your heart? Lunniss. And those totally wild pictures from past Freakout Fests with the double exposure effect paired with Mad Alchemy's trippy light show that makes for especially dizzying documentation of what just might be Seattle's wildest music festival? Brittne. Fuckin'. Lunniss.
---
Zack Bolotin
If you've been to Zack Bolotin's Capitol Hill coffee shop, Porchlight Coffee, then you already know he has an eye for design. It's a minimalistic, mid-century dream. And he applies that same uncluttered aesthetic to his architecture and travel photography. Even in the bustle of the city, Bolotin can capture a quiet moment that highlights the curve of a building or the geometric shadows of a landmark built during the 1962 World's Fair.
Some of his favorite Pacific Northwest nooks can be found "on any highway older than I-5," he said, like on Highway 1 or 101, "because it feels almost like a secret sometimes to take the long routes and the side roads. There are so many pieces of the past, like roadside attractions, motels, or neon signs barely hanging on that are such a treat to stumble upon."
After peeping his photo journals online at porchlightdesignco.com, chances are you'll feel inspired to go on a few journeys of your own. Thankfully, he sells 35 mm disposable cameras at the coffee shop to help get you started.
---
Natalie Krick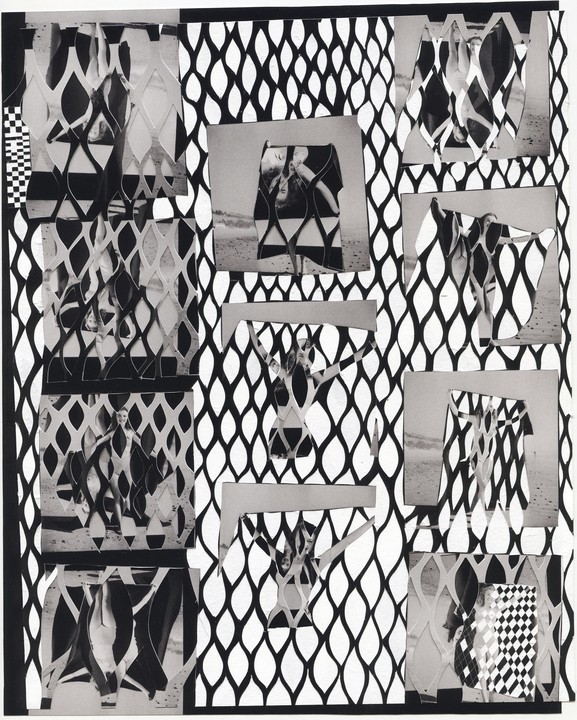 It was Al Varady, one of the owners of Solas Gallery, who turned me on to Natalie Krick's work. Once I got a look at her current fascination, creating mixed-media collages with found contact sheets from a photoshoot with Marilyn Monroe and André de Dienes, I was hooked.
Krick starts by making digital C prints from scans, and then she cuts, pokes, peels, and tears them apart only to layer them back together again. In some, Monroe is missing entirely. In others, she's inked over with a Sharpie. My favorite pieces are the ones where Krick has cut intricate petal shapes to create a netting effect—giving us some idea that the star is in there, somewhere, probably. The dissection is jarring, but captivating, too.
"The process has really been one of experimentation," Krick said. "I started by layering fragments of the contact sheet, then played with removing her using Sharpie or black paint and coating the whole sheet with reflective resin. I've also been experimenting with gently slicing the first layer of the photographic paper and peeling back the surface. And most recently I've been making these intricate fishnet/veil cuts. Ultimately, I am responding to her poignant way of talking about her image—'Marilyn's like a veil I wear over Norma Jeane.'"
---
Chloe Collyer
Photojournalist Chloe Collyer captures some truly captivating images of life in Seattle. Some of their most impressive work came during the days following George Floyd's murder when protestors took to the streets of Seattle. The march started out peacefully—as peacefully as a demonstration in response to continued police brutality can be, anyway—but an extreme police response created chaos. There were batons, pepper spray, and flashbangs. You're probably familiar—we covered every second of it.
Events such as these generally go by in a blur of passion and noise, but Collyer gets in close to capture every detail of faces that are twisted up in anger and wet with tears. They know the importance of joy, too, though, as they also cover Pride events and other celebrations to show us there's still love in the world despite all the rage.
---
Reva Keller
Speaking of half-eaten burritos, no one wants to see your dimly lit, messily plated food photography. It's gross. Every Instagram influencer thinks they can take a decent shot of a plate of food, but I'm here to tell you your pictures are either boring or bad. There's almost always bad lighting and rarely any thoughtful framing. Put your phone down, eat your food while it's still hot, and leave the food photography to pros like Reva Keller.
Keller does it all, with her editorial and commercial food photography bridging the gap between food looking beautiful as well as looking delicious. I'm especially fond of the series of photos she took this year of Kristi Sue Yamamoto's yamcake4u cakes, which are covered in flowers and fruit and decorative doodles of frosting. They look like garden sculptures you want to sink your teeth into.
---
Please note: Chloe Collyer's Instagram handle was misspelled in the printed edition of September's Arts + Performance magazine. The correct handle is @chloetry. We regret the error.