Art and Performance Fall 2023
In 1998 Kirsten Anderson founded Roq La Rue in a dirt-cheap space in Belltown that was scheduled for demolition. She eventually moved the place to half a room next to Shorty's, where rent was maybe $600 a month, and things went okay until the whole back roof collapsed. Then she moved to the spot above Pearl Jam's rehearsal space.
For 25 years, Anderson and Roq La Rue have hopped around the city, from Belltown to Pioneer Square to Capitol Hill to Madison Valley, where Roq La Rue now stands in a slick, sun-filled space that's a far cry from those early punk rock days.
The gallery has survived skyrocketing rents, a pandemic, and even Anderson's brief departure from the art world. In October, she will celebrate Roq La Rue's longevity with a group show featuring all new work from some of her favorite artists who've joined her on her wild, weird journey.
In August, I stopped by the gallery at the tail end of Ben Ashton's dazzling show to ask one simple question: HOW!?
My first question: How the fuck have you kept an art gallery open for 25 years in Seattle?
When I started, the internet started happening. I started in '98, I immediately was online, and I was also at the front of this emerging wave of art that was starting to become popular through magazines like Juxtapoz. So I was able to do really targeted marketing and be online. It was accessible to anybody. That's how I got a collector base that spanned the globe, honestly. And early on, I could get places with really cheap rents. Some building owned by a dude who was like, "Don't bother me about maintenance and you can have cheap rent." It worked out great for a while. [Laughs]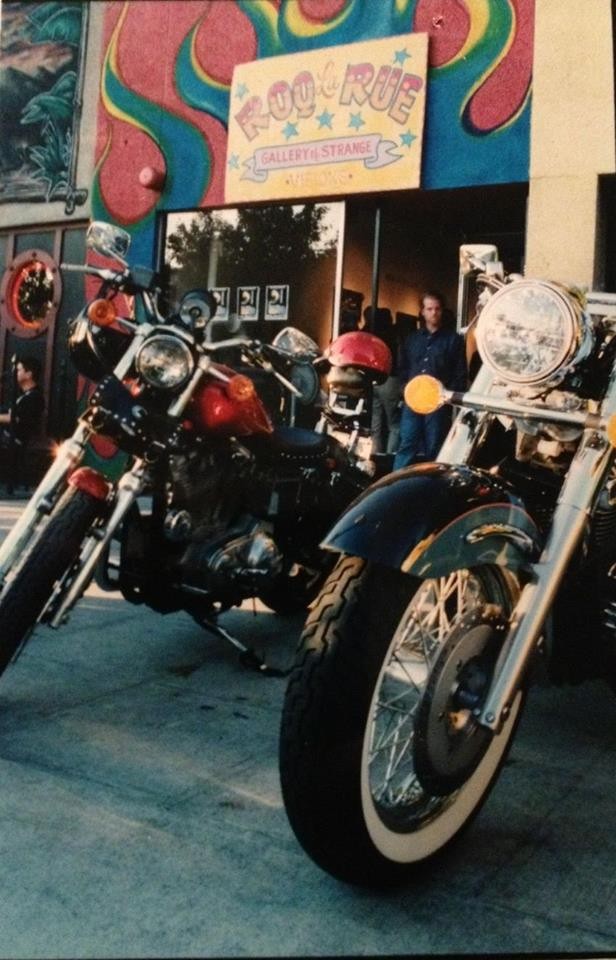 At the time, when you were starting out, not knowing what you were doing and having buildings literally crumbling above you, why was it important to you to still keep going?
I grew up surrounded by arts, my parents were artists, and it was understood that I was gonna be an artist. I was a painter—I wasn't very good. I was extremely judgemental and I had very high standards, and I applied them to myself as well. But growing up being surrounded by fine art, then also growing up during punk rock and new wave and loving counterculture stuff, I just glommed on to that. This new art movement I was seeing, which was called lowbrow at the time, was this blend of all of that. It was very exciting, and I wanted it to be here [in Seattle].
I was working at Seattle Art Supply and hating my job, as you do, and someone asked, "What would you do if money was no object?" I said, "Open a gallery." It just popped out of my mouth. I hadn't thought about it. The next day I read an article in the Seattle Weekly about Larry Reid, about how he started. Reid was an early mentor of mine, and he was like, "I just painted the walls white, put lights up, and called some artists." Well, I can do that. So that's how I started.
I never really had big aspirations about it. I was just like, "I'm going to keep this going as long as I can, just to see if I even like it." I really did like it, and I really liked how it sort of immediately changed my life. I was like, "I can't go back to minimum wage." [Laughs] Even though I'm still making minimum wage, I work for myself. I'm doing something cool.
Was there a point in all of that where you thought, "Okay, this isn't a little punk rock dive—this is more than a counterculture, lowbrow hole in the wall"?
That's a great question. No one's ever asked me that. Yes, there definitely was a shift. This art started to become really popular, and there were a bunch of galleries starting to crop up around the country. At the time, I was hyper-competitive, I think in a good way. I became extremely competitive, as did everyone else. And I think that brought the level of things up, I think it was a healthy competition.
The other thing that happened is that some of the artists started to become really popular, specifically Mark Ryden—he's the one who's moved on to the blue-chip art world. And so suddenly, money got introduced. We all had to adapt very quickly to becoming more professional and realize this is actually a legit art movement. I was seeing ripples in the New York art world, people like John Currin and Lisa Yuskavage were doing cartoony figurative works, and I was like, "I want people to know that the lowbrow pop surrealism scene was doing this first because they're gonna get shafted." [Laughs] So I wrote the book Pop Surrealism and Juxtapoz started to become really huge, which was the journal for this art movement. I think that's when everyone sort of woke up and we all became really serious.
Originally it was like tikis and hot rods and lowbrow... 
Flames on everything!
Yeah! And kitsch. Kitsch was really valued. I loved it because it was a working-class art movement. Then, because there were no rules and because it was distributed so much because of the advent of the internet, other artists started to go, "Wait, I can do that? I can paint whatever I want? I can get weird?" So a lot of people out of the illustration world moved in, like Mark Ryden or Todd Schorr—it wasn't just the celebration of this counterculture, it started to have a different meaning, it started to become more beautiful, more symbolic, and that's what started pulling money in. I would say 2004, 2005 is when the shift really started to happen. 
It sounds so much like Seattle's music industry in a lot of ways. Grunge started as Green River, TAD, the Melvins. During the grunge boom, they ended up getting shafted—if you use money and fame to measure success—compared to Pearl Jam and Nirvana. The earlier bands introduced the idea that you can break the rules or that there were no rules in the first place...
And then it becomes more palatable, and more people like the palatable version. I also like the palatable version, but yes. I'm from Seattle, I went to Easy Street in the early '90s, so I watched Sub Pop and what they were doing, and when I opened the gallery I very much was looking at Sub Pop. I knew I had to build the gallery name as well—T-shirts, stickers, and things like that. And purposefully, in my advertising, highlighting the gallery name, too, much in the way Sub Pop did.
There was a point when Roq La Rue closed briefly. What happened there?
Yeah, I lost my cheap awesome space in Belltown. But weirdly, the story of Roq La Rue is one of tremendous luck. It's very weird. Things fall into place when they need to. I was like, "That's the end of the world. I lost my space. That's it for me. There's no way, I can't afford something else." The next day I found a place on Craigslist in Pioneer Square in this beautiful gallery space.
The Pioneer Square days were part of our heyday in that the movement was so vital, and I had all the energy in the world, it was just a whirlwind. It was great, but I also burnt out really, really hard. That's why I closed in 2016. I also became involved in wildlife conservation and started doing nonprofit stuff and taking people on safaris in Africa. It wasn't gonna pay my bills, so I needed to do something, and I thought I'd open a store and it just very quickly transitioned into having the gallery again. Also, people wanted it. I had a break. I kind of missed it. I felt Roq La Rue was this entity that was me, but it was also collectors and artists and it almost became a weird beast of its own.
I realized that just abandoning it was not smart. The gallery changed my life, I became a completely different person. I was an airy fairy floating around and doing jobs that were not meaningful to me, and through the gallery I had a sense of purpose. When I quit I knew I was going to lose that, but I didn't know how much it would affect me to lose that.
I opened in Capitol Hill, thinking that was going to be great. And it was awful. Capitol Hill was going through a rough patch. I was there for COVID and CHOP. CHOP didn't impact us as much, but I didn't get any walk-in traffic. While walking around I found this space [in Madison Valley]. I pay a lot more rent, but the space is beautiful and it's very fitting with what I do now. I get more walk-in traffic here than in any of my other spaces.
Tell me more about the 25th Anniversary show in October. There's a lot of ground to cover!

It will feature more artists I've worked with over the years, some very recently, some much older who I haven't shown in years. It's a hodgepodge. I'm having people like Mark Ryden, Marion Peck, Esao Andrews. There's no theme, it's completely open, whatever people are inspired to do. It's really a celebration.
What's next? Another 25 years?
I'm probably doing this until I die.