Art and Performance Fall 2023
Any record made in Seattle by people who live in Seattle will sound like Seattle in some way, but the city literally makes the first sound on Death Cab for Cutie's 2003 breakout record, Transatlanticism.
Just before the guitar feedback meanders in on the opening track, "The New Year," a high C from a Hammond organ hangs in the air as the distant whoosh of cars driving down a highway washes over it. Those same sounds run under the full length of the album's closer, "A Lack of Color."
According to frontman Ben Gibbard, in those moments we're hearing a field recording of the city captured in stereo at 3 am from his old attic apartment bedroom on Mercer Street between Bellevue and Summit Avenue. During the summers especially, west Capitol Hill's noise floor comforted him as he tried to find sleep or the words for the songs that would become the album that transformed the band from a scrappy touring outfit to a full-blown Big Deal.
Gibbard and producer/guitar player Chris Walla liked the neighborhood's auditory atmosphere so much they decided to bookend the record with it. In a recent interview with The Stranger, Walla said the sonic ouroboros amounted to "a little drama, a little theater" that pulls the listener into Transatlanticism's world.
The move also embodies some of the record's major thematic tensions: Longing and its "endless distances," as the West Coast poet Robert Hass would have it, and the paradise/prison of permanence we find in the notions of home and romantic relationships.
"Because of that [field recording] and other reasons, this record is very much rooted in Seattle, in the pulse of Seattle, the feeling of the city being both this living, breathing organism but also this very lonely place," Gibbard said.
That record, along with Postal Service's Give Up, turns 20 years old this year. To celebrate, Death Cab released a forest green commemorative vinyl of Transatlanticism, and the bands launched a double-bill fall tour that makes its way to Climate Pledge Arena on October 6 and 7. Last month, I spoke with Gibbard, Walla, and bass player Nick Harmer about making the record, about how the region we all share helped to shape it, and why most of them still stick around.
The Strong Scent of Evergreen
Many musics make up Seattle and the Pacific Northwest, but in the early 2000s much of the world still saw the region through the grubby lens of grunge. From my vantage as a midwestern high schooler who knew little of life and less of Seattle, though, grunge music emerged from the television—not from any place where people lived.
As I transitioned from a pop-punk phase into an indie rock phase, the bands on Barsuk and K Records ended up coloring the PNW for me more than grunge ever did. And no album painted that picture more vividly than Transatlanticism.
On that record, the PNW wasn't grimy and swaddled in a flannel. It was "the strong scent of evergreen / from the passenger seat." It was a "sugary springtime." It was "braving mountain passes" for college girlfriends. It was the reverb on the vocals and guitars evoking the image of mountains rising up in the middle-distance such that even the California sun "cascaded" down faces. (A stretch, sure, but you gotta admit it's sitting right there.) It was a place that changed but always stayed the same, sort of like my love for her; whoever she was, wherever she was.
All of that sounded downright intoxicating coming from small-town Missouri, where everything variously smelled like grass and dust, and where nothing changed but nevertheless kept getting worse.
When I finally did brave those mountain passes for the first time as a grad student in 2011, Seattle looked the way Death Cab made it sound: a habitable diamond in the rough. Though I gather it wasn't the Seattle of 2003 by any stretch, the natural beauty (and peril) was all there, as was that pervasive sense of loneliness.
As it turns out, all of this placemaking on the record wasn't merely incidental. Gibbard, who grew up "dancing in the Olympics" with his parents, said his early study of the Beat Generation writers—particularly Jack Kerouac—gave him the impression that good writing gave readers a "strong sense of place."
That lesson helped lead him, for example, to the decision to swap a verse about a new boyfriend serenading the narrator's girlfriend on "We Looked Like Giants" for a verse about the narrator holding his girlfriend closer as mountain air passes through a window. Though he wrote the demo while housesitting for Bay Area rocker John Vanderslice in San Francisco, upon his return to Seattle he realized that a "real sense of place" helped tie the song together, and so he made the switch. Sometimes you gotta go away for a bit to remember home.
For Walla, the field recordings, the nocturnal "Twin Peaksy" atmospherics of a song like "Passenger Seat," and the environmental metaphors Gibbard wove into the lyrics contributed to the overall cinematic quality of the album, reinforcing its narrative arcs.
A Sound Environment
Though they all expressed admiration for some grunge bands (Gibbard praised Nirvana, Soundgarden, Coffin Break, and Hammerbox) and argued that grunge represented a real and true facet of Seattle from that time, the sound the band found on Transatlanticism flowed forth from other streams.
As opposed to the guttural machismo of a vocalist like Pearl Jam's Eddie Vedder, Gibbard discovered a kind of permission in the higher, simpler, more tonal voice of Sunny Day Real Estate's Jeremy Enigk (who he first saw opening for another band in Seattle) and Built to Spill's Doug Martsch.
Gibbard's own PNW touchstones were Treepeople from Boise, Idaho and Hazel from Portland, Oregon, but for him, no band emulated or embodied "being a band from the Northwest" more than early Modest Mouse on The Lonesome Crowded West and This Is a Long Drive for Someone with Nothing to Think About.
"Those albums are so wonderful for many reasons, but one of the things I really gravitated towards was this very real sense of isolation and loneliness, and also the encroachment of gentrification and the suburbs creeping further and further out from Seattle; eating Bellevue, eating Issaquah, eating Snoqualmie. These things have happened and they continue to happen," he said.
Though it didn't influence the sound of their music as much, the spotlight grunge put on Seattle in the 1990s spurred Death Cab's members to take music-making seriously. Learning that Seaweed—a grunge band from Tacoma, "not even Seattle!!"—landed a deal with Sub Pop gave Gibbard "a path of possibility that was open and awesome."
Before college, Gibbard took the ferry from Bremerton to catch concerts at the Central Saloon and the OK Hotel. Harmer caught rides up from Puyallup, and he remembers skipping school on occasion to dig through 7" records at Cellophane Square in the U-District, sourcing his music from Green River College's KGRG radio station. Walla credited Seattle's "amazing radio landscape" in general for feeding him all the music he couple possibly devour, expanding his tastes beyond the stuff that was getting popular.
Though the band originally formed north of Seattle, in Bellingham, the lineup that created Transatlanticism mostly hunkered down in Seattle from December of 2002 to the summer of 2003. During that time, they say they kept their distance from "the scene" at Linda's and the Cha Cha Lounge. They sometimes hung out at Eileen's. Gibbard ate most of his meals at the Pho Than Brothers on Broadway and walked around Capitol Hill most days, listening to demos on headphones and trying to write lyrics. Harmer picked up shifts at Sonic Boom Records, which had recently opened. Walla, who ran the Hall of Justice recording studio in Fremont where they tracked and mixed most of the record, was a PCC guy. "About every day I'd get a sandwich and something from the deli case, and that's it... along with the occasional Taco Time run," he said.
Their relative distance from the scene helped them focus, but Gibbard, Walla, and Harmer credit two things for the artistic success of the record: good vibes and drummer Jason McGerr. They picked up McGerr and started rehearsing with him following a big blow-up on tour one night in Baltimore, after which the band parted ways with drummer Michael Schorr. McGerr's gravity grounded the band, and his openness and vision shaped a lot of good ideas on Transatlanticism.
Personnel change aside, everyone in the band also felt relatively relaxed for what felt like the first time in a while. Royalties and odd jobs gave members enough money to eat soup and buy records, and they had more time to play with than they had when they recorded their previous record, The Photo Album.
Moreover, Walla's powers as a producer had reached new heights. At that moment in 2003, Gibbard said Walla had learned how to "play the studio like an instrument." Gibbard was on a hot streak himself, writing a bunch of songs that would become Give Up while also knocking out tracks for Transatlanticism.
When the album finally came out, it'd go gold and garner plenty of critical success, thanks partly to a few mentions in the hit television show, The O.C., the Millennial version of Beverly Hills, 90210.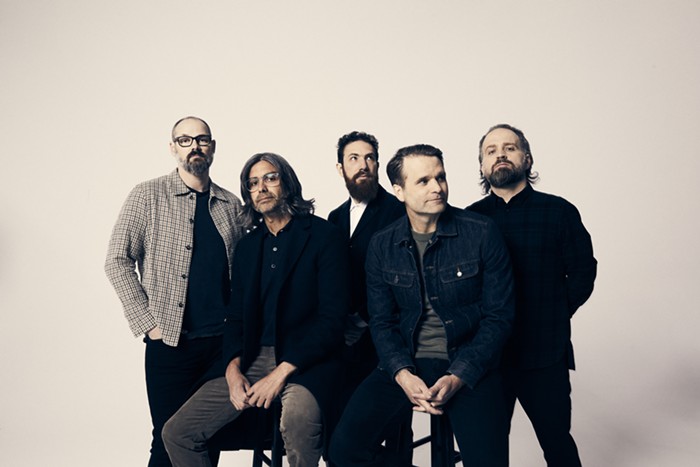 A Reason to Stay
Though the success of that record took them around the world, everyone but Walla, who now lives in Norway with his partner, still lives around here.
Both Gibbard and Harmer still find a sense of freedom in the proximity to the wilderness and the waters, and though Harmer acknowledges some cultural shifts within the city, he still sees Seattle as "its own little dive bar up in the corner of the country."
"I don't know if it's an ethic or a philosophy," he added, "but compared to New York or LA we're just not as pretentious and not showy—people still roll their eyes at displays of wealth just across the board."
That ethos recalled a lesson about Seattle that Gibbard actually did take from all those grunge acts in the 1990s: "You can't go out into the world, gain success and notoriety and fame, and then come back to Seattle and be a dick," he said. Being in Death Cab, he argued, confers no special access to restaurants, events, or anything else. "The city helps you keep it real."
"The only person who doesn't have to pay for a meal in Seattle is Marshawn Lynch," Harmer added.
The tour for Transatlanticism and Give Up gives the band another chance to test their thesis about Seattle, and it offers me an opportunity to do the same. Does the city still wow me now like it did before I knew it? Do I still feel as if I'm driving through the lonely and verdant corridors of the Mountain Loop Highway when I listen to "Passenger Seat," or "Transatlanticism," or "We Looked Like Giants"? Yeah, it does and I do. Setting aside the housing crisis, the new smoke season, and all the bullshit coming out of City Hall, when I can find a minute to breathe, it still feels like a personal achievement as an organism to call Seattle home. Its sun and spray and sweet springs still more than make up for its darknesses and its particular lonelinesses, all of which Death Cab & Co. capture directly and indirectly on the album.
After blissing out on that idea for a while, the cynic in me starts whispering questions about the degree to which the band is just cashing in on my Millennial nostalgia trips the way the Rolling Stones and Bob Dylan tours cash in on Boomer nostalgia, perpetuating a tendency in the industry to repackage old stuff rather than invest in new talent.
In response to those provocations, the band offers many strong arguments. Gibbard sees the rise of playing-the-whole-album shows corresponding with the rise in streaming music. These sorts of tours, he speculates, see success because they return to listeners a physical connection with the music they loved when they were younger, when the bonds with music formed much more strongly. That idea makes sense to me, and it tracks with the dominant marketing strategy of trying to sell Millennials experiences instead of goods as the country shifted from manufacturing to a service-based economy over the course of the last several decades.
Harmer rejects my cynic's premise and asks for whom is this tour nostalgic? Music is a living thing. People are still being born who are hungry to discover music they haven't listened to yet, and these tours help expose them to songs that will be with them for a lifetime.
The sentiment rings true for Seattle and the PNW more generally. To some degree, yes, these exact mountains and these exact record stores and this exact studio and the sound of those particular cars rumbling over that particular highway at that time in everyone's life all helped shape, to varying degrees, a great rock record. Without preserving that universe in amber, it's hard to see how any band could keep bottling their version of the light and loneliness around these parts.
But so long as the Cascades and the Olympics still rise an hour outside of town, so long as music venues, studios, bars, and restaurants exist—even if they are located in different buildings!—then there will continue to be a city and scene for musicians to conquer or buck.
---
See Death Cab for Cutie and the Postal Service perform Transatlanticism and Give Up at Climate Pledge Arena Pledge Arena Friday and Saturday, October 6 and 7.