Art and Performance Fall 2023
The 10th annual Freakout Festival in 2022 was supposed to be The Big One. Event founders Skyler Locatelli and Guy Keltner and their team of seasoned organizers had booked Latin American psych-/ garage-rock legends Os Mutantes, Los Dug Dug's, and Los Saicos' César "Papi" Castrillón. The performers—many coming in from other states and countries—numbered 150, the most in FF's history. There were more venues than ever, including a free outdoor stage. The social-media hype and press coverage were present and correct. Coming off its best attendance and financial year ever in 2021, Freakout had momentum on its side.
But the 10th-anniversary of Seattle's premier psyche-decadent extravaganza underperformed, at least from an accountant's standpoint. Attendance was lower than expected. Money was lost. Doubts festered. The COVID grant funds had run out. Freakout Fest—as exciting and aesthetically successful as it was—couldn't go on like this.
So, after a late 2022 meeting with King County Creative Economy Director Kate Becker, who proposed that Freakout transition to nonprofit status, Locatelli broached the idea to his business partner. They agreed that it made sense. "We feel like we've already operated as [a nonprofit] from an organizational mission standpoint," Locatelli said in a phone interview.
"We were still a business with two owners who ultimately have executive decision-making, but we've always thrived on being a community-led thing."
Now with a board of directors added to the company and access to grants, Freakout has been able to operate without chronically worrying about keeping it in the black. "I wouldn't say that the primary reason is financial, but it kind of is," Locatelli said. "There are a lot of costs saved and costs gained by operating a nonprofit business. We have a fantastic board that we've put together. We have more eyes and ears in the room now. There are tax benefits, of course. We're able to let go of the stress of operating an LLC a bit."
Freakout's board members predominantly consist of mainstays in Seattle's entertainment scene: Alaia D'Alessandro from the great rock band Tres Leches and KEXP; Christine Gutiérrez (aka popular DJ Gold Chisme), Chris Porter (ex-Bumbershoot, Hardly Strictly Bluegrass), Keep Music Live board member Sarah Rathbone; Leigh Bezezekoff (Tractor Tavern marketing and ticketing director); Kay Van Petten (former Caffe Vita marketing director now doing marketing for Sonic Guild); and Crocodile talent buyer Morgan Clinton. In addition, the Vera Project fiscally sponsors Freakout.
Keltner thinks that the change has been beneficial so far, but cautions that it could make things harder, "because maybe [agents and artists] get the impression that there's public money involved now, so they'll go after more." With a laugh, he added, "It could backfire."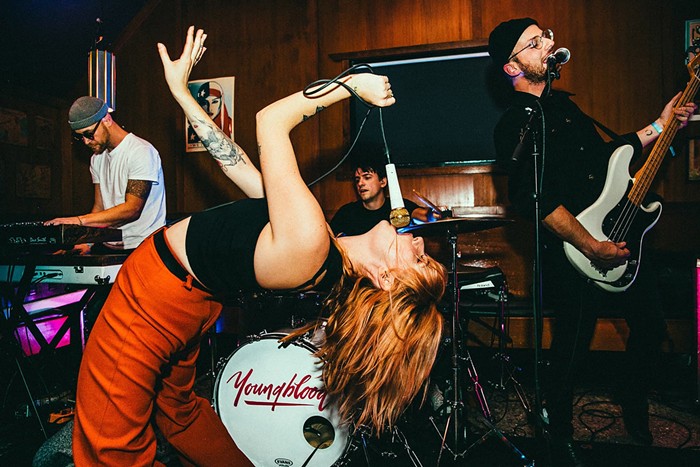 Generally speaking, though, becoming a nonprofit has increased Freakout's name recognition. Which is necessary, Keltner said, because his biggest annual challenge "is getting on the phone with agents or artists and convincing them why it's important they play [Freakout]."
Trying to figure out why 2022 attendance plummeted, Locatelli consulted with Adam Zacks of THING and Kevin Sur of Timber! They concluded, "There was this mad dash of events in 2022 [to make up for time lost to lockdown], and people got fatigued." He also speculated that the headlining Latin rock legends may have not been as powerful a draw as expected, though their individual sets lured big crowds. But advanced sales for this year's Freakout are substantially ahead of where they were last year. More recognizable headliners such as the Gories, Allah-Lahs, the Spits, and Sextile may have had something to do with that.
Some other changes are afoot. To hold down costs, Freakout has striven to limit the number of artists to 75—roughly half of 2022's total. However, they've blown through that goal; it was around 105 at the time of our interview. "There are a few slots left," Locatelli said. "I'm considering doing a collaboration with the MoPOP Sound Off ! artists again; we did that last year. It's tough. There are so many great bands and we try to make space for as many as possible. But at the same time, more bands is more money and more coordinating to do. But I hope we max out at 115 this year."
Because Keltner starts booking Freakout over a year in advance, he'd landed many acts before the switch to nonprofit status occurred. (This will be the last edition where he carries so much of the curatorial load.) "The only thing this year that's been really affected by the nonprofit side is we're smarter about the budget, thanks to having other people in the room to talk to," Keltner says.
Other tweaks include the removal of the outdoor stage and scaling back from four nights to two at Tractor Tavern. The Spits will headline one night and Sextile the other. While losing the defunct Hotel Albatross hurt Freakout, they plan to work with the Ballard Smoke Shop in an open-to-the-public scenario and hope to secure free stages at femme-centric sports bar Rough & Tumble and possibly another space. Free stages will continue at Filson and Caffe Umbria.
Beyond that, Keltner and the board are taking steps to make the DJ program more diverse. "It's programming that can be really fun when it works," he says. "But a lot of times I fuck up and don't give it a lot of care, because I'm doing too much. Now I'm getting some help with that. It just enriches the whole experience when you're nailing those things. You want people to be walking into every room on Ballard Avenue and go, 'Wow, that's a vibe!' I think that general vibe's gonna be richer this year because of the board."
Perhaps the biggest development has been hiring local photographer Jim Bennett as festival director. A former Microsoft employee, Bennett has worked with Pearl Jam, among other bands, and is lead photographer for Seattle Theatre Group and KEXP. Freakout's paid staff predominantly has been male, and Locatelli admits they want to have better representation as a nonprofit, but the organization needed a director stat, and Bennett was eminently qualified and enthusiastic. "He's been great," Locatelli says. "He's taken a lot off my plate." Locatelli also praises Freakout's production director Ross Albrechtson, production manager Cameron Lavi-Jones, artist-relationship coordinator D'Alessandro, marketing director Jake Hanson, and Aubrie Kralis, who handles social media and digital marketing.
As for the 2023 lineup, there's much to get stoked about. Locatelli is especially psyched about the Gories, who've been on Freakout's wish list for years. Luckily, the revered Detroit garage-rock group share agents with fellow headliners Allah-Las, so it finally worked out. Skyler and Guy are also pumped about the cumbia-punk outfit Son Rompe Pera, who will be the fest's closing headliner. Both men also tout the crazy one-man band Nestter Donuts, whom Keltner met while in Alicante, Spain.
"He calls his music 'flamenco trash,'" Keltner says. "It's like if King Khan and the Spits had a flamenco baby. I'm gonna have him play three times, and I'm putting him in different rooms each time. I did that last year with this band from France called the Wave Chargers, and by the end of the festival, when they opened on the main stage, they had a full house. It works to build buzz around a band. But [Nestter Donuts] is the artist where no one has any idea what they're in for."
---
Freakout Festival 11 is Thursday-Sunday, November 2-5, at various venues in Ballard including Tractor Tavern, Salmon Bay Eagles Club, Sunset Tavern, and Conor Byrne. Visit the-freakout.com for full schedule and tickets.