Art and Performance Fall 2023
Faith Charlotte's Instagram feed looks delicious. There are stacks of pancakes slathered with butter and syrup, wedges of cheesecake topped with vibrant cherry sauce, and bowls of ramen brimming with noodles and narutomaki.
But you can't eat any of it. These hand-crafted clay creations—some with faces, others with hidden compartments—are the cutest trinket boxes, incense burners, and ring holders you'll ever see.
Charlotte was still in high school when she started up her online shop, Charlotte's Clay Shoppe, in 2017, and last year her pieces were in such high demand that she was able to quit her day job and focus on her art full-time. She says she's made and sold more than 1,100 stacks of pancakes, slices of cheesecake, bowls of ramen, and smiling hamburgers and hotdogs from her Tri-Cities studio.
Does she get hungry while working? I had to find out. 
You mention on your website that the pandemic gave you time to really dig into your art and start selling it. Do you now make these cute AF food treasures full-time? What did you do prior to that?
Yes, Charlotte's Clay Shoppe is a full-time job! It feels crazy to say that sometimes. I was still a high school student in 2020 so I suddenly had a lot of free time to get back into art and started selling it. In 2021 I graduated and became a barista while still running CCS on the side. By 2022 I had quit being a barista to pursue my business as a full-time job. It was such a scary leap but I'm so thankful that I did it!
I have one of your pancake boxes and I am obsessed with it. The syrup is so realistic! What is it made of? Is it a secret formula that took some time to figure out?
Thank you so much! The syrup is made of two-part epoxy resin—the secret sauce is the color formula I use. I have a special amount of color drops I use per ounces of resin to give it that syrupy hue!
Are you ever tempted to eat one of your creations while making it?
Absolutely, after most preorders I treat myself to the real food version of what I made! During my last pancake preorder, I craved them daily, so after I shipped the last batch out I went to a breakfast spot and ate a big plate of pancakes. It's a very tasty way to celebrate finishing a bunch of orders!
What is your favorite real, not-made-of-clay snack?
My favorite non-clay snack would have to be Flavor Blasted Goldfish. So salty and delicious.
 

 

View this post on Instagram

 
I read that you also play music! Do you listen to music while you work?
Music is such a huge passion of mine! I really love recording and playing music when I'm not working. Listening to music helps me focus when I work and it gives me such a huge energy boost. My favorite artists are Pixies, Nirvana, Dandy Warhols, Pavement, Soundgarden, Alice in Chains, and Talking Heads. And Blur. And the Presidents of the United States of America. It's so hard to narrow down!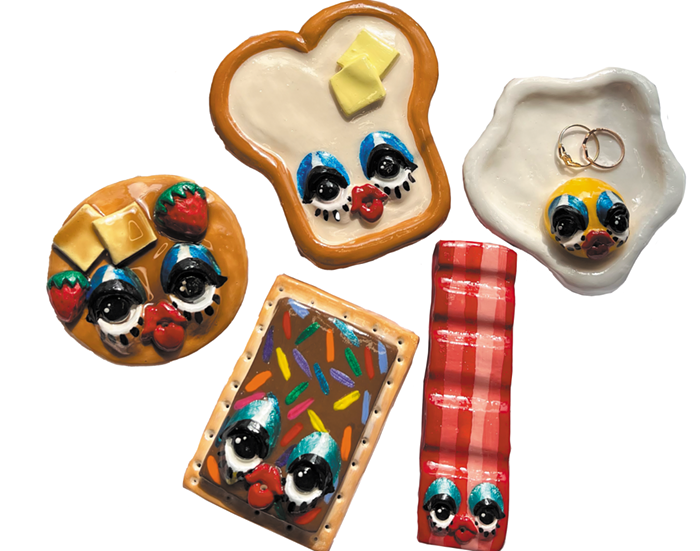 ---
Get your own pancake box at charlottesclayshoppe.com and follow Faith Charlotte on Instagram at @charlottesclayshoppe.